Olivia Rodrigo's sophomore album, GUTS, dropped on Friday, Sept. 8, and successfully proves that the 20-year-old is no one-hit-wonder.
The album begins with an acoustic guitar on "all-american b*tch," leading the listener to think they're going to hear another slow ballad before it switches between pop-punk and a breezy self-assured pop song. This style is reminiscent of Taylor Swift's early albums, arguably cementing it as one of her best tracks already.
Immediately following the colossal opener is one of the singles, "bad idea right?" which functions as a fun pop song that follows the age-old story of someone falling back into their ex's arms.
This song is the first track where I noticed the increased production value and guts (pun intended) of the new record. This is most visible in the first three songs on the album, with more robust vocals and instrumental work peering through the radio pop veneer and showcasing the young songwriter's obvious talents.
The standout single released in June, "vampire," is another song that starts with the fake assurance of a piano ballad before breaking into a tempo switch that carries the rest of the song.
One of the strengths of this album that is possibly best showcased on "vampire" is the confidence Rodrigo has come into on her second record.
Her debut, "SOUR," was a strong start with the standouts "Good 4 U," "deja vu," and "brutal," but the new record feels more fully realized and more mature, as it follows a record that she made when she was 17.
The aggressiveness coupled with a "let's all have fun and commiserate together" attitude can be incredibly hard to pull off, however Rodrigo and her writing partner and producer Dan Nigro nail this feeling. They make the new record feel more like an exciting retrospective of negative events, whereas the debut was arguably heavy-handed in its morose undertones.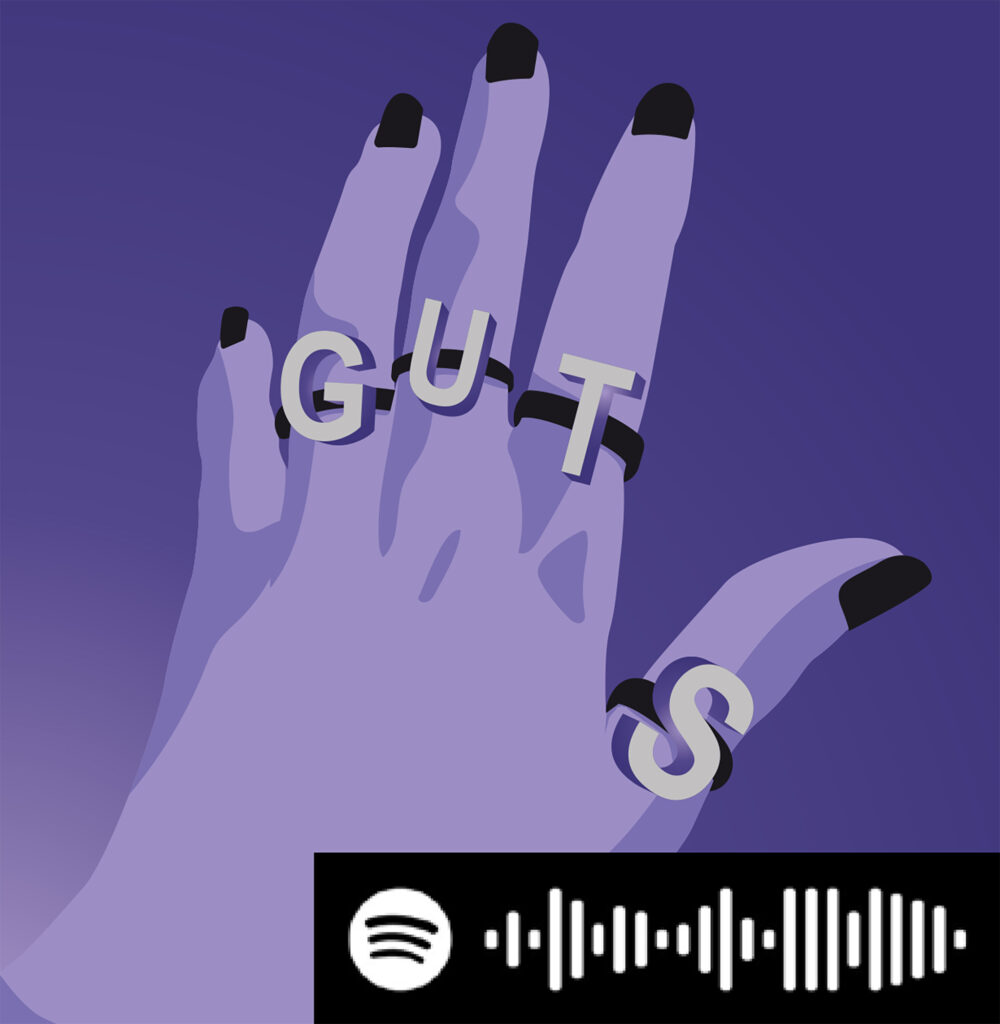 With all the positive things about the album come many negatives as well. The album fails to be the perfect magnum opus that her fans had all hoped it would be.
I found myself getting frustrated with "GUTS" at times since it starts so strong with thoughtful and insightful lyrics accompanied by brilliantly simple melodies on the first five songs, before launching into dumbed-down pop songs. They treat the listener as a child, somewhat discrediting the great songwriting on the rest of the record
Possibly the biggest offender of this is "get him back!" which starts off strong with a drum beat that is somehow reminiscent of the old Butthole Surfers hit, "Pepper" before devolving into another industry pop song with unmemorable lyrics and a dumbed-down chorus for the masses listening through their radios.
Songs like this make it all the more frustrating for listeners like myself who like to be able to take something from the lyrics because she has great songwriting potential. Those skills were showcased specifically on "vampire" and the incredibly insightful album closer "teenage dream" in which she laments being considered "great for her age" and just wanting to be considered "good."
Overall, Rodrigo shows a lot of potential as a clever and thoughtful songwriter to be associated with the likes of Billie Eilish and Clairo, however hurdles within the industry seem to stall what could have been a defining stepping stone in the young singer's career. 7/10.