This fall season, men's and women's golf look to reach the GLIAC championships with their respective teams.
For the women, they look to repeat as GLIAC champions. Their championship win last year broke a 16 year drought of Ferris women's golf being GLIAC champs. For the men, they look to return to GLIAC glory. Their last GLIAC championship win came in 2021.
Women's golf
Since their championship win last May, the team has experienced some roster turnover. The women's golf team lost four golfers from last year's team. However, they have key golfers returning like Senior Dani Staskowki, who has her eyes set on a repeat, and much more.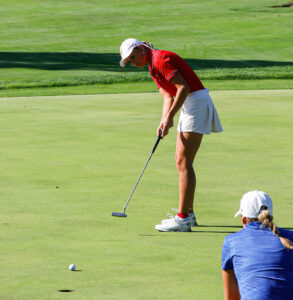 "Obviously, I want to win GLIAC again. But making nationals is a personal goal for me this year and also with the team," Staskowski said.
After losing their leaders and upperclassmen, Staskowski is expected to step up and take on the role of leader for their team. Staskowski cited that one of the golfers who did not come back was a "strong leader on our team" and that she plans on taking after her.
Following a rough start for the women's team, who finished 14th at the UIndy Fall Invite, the team finished second at the Gilda's Club Laker Invite. Last season, the women found themselves in a similar spot by finishing 13th in the UIndy Fall invite. But, as history would have it, they ended up winning the conference.
Leading both Bulldogs golf teams is coach Sam Stark, who is in his third season with both teams. Stark is there to make sure that the women's team does not take their foot off the gas pedal.
"Our ladies have done a good job of maintaining their focus while remaining proud of their past accomplishments," Stark said. "With how strong our region is, there's no time to take our minds off the challenge of competing in the fall, and that keeps us sharp."
Stark receives high praise from Staskowski. She says that Stark has been a massive figure of encouragement for the team, stating "He's just always supported us as people and as golfers."
As Stark steers the ship and Staskowski helps lead the women's team, it seems that their confidence could not be higher with the season just getting started.
"We've always had a team that works really well together, gets along really well, and encourages everyone to be the best versions of themselves," Staskowski said. "Four of us from last year are still on the team this year. Even with new girls coming in, I know we'll be able to put on a great mindset for everybody again this year."
Most recently, the women's team captured a third place finish in the Lady Bulldog Invitational in Big Rapids.
Men's golf
The men's team isn't shy about winning either, as they have the most GLIAC championships with 21 and their most recent coming in 2021.
Sophomore Caleb Bond landed in a tie for third place at the B&R Investments Bulldog Fall Classic. Bond, like Staskowski, is confident this year's team will make some noise.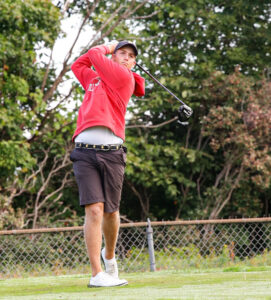 "We didn't lose a lot from last year, and we picked up two really good freshmen," Bond said. "Everyone else has gotten a lot better."
Bond also set the goal for the team this season, saying they want "at least two team wins and a scoring average below 290."
The men's team has gotten off to a hot start with two invitationals behind them. The team claimed a third place finish at the Malone Fall classic and then a first place finish at the B&R Investments Bulldog Fall Classic last week. As of publishing, the men will have played at their respective UIndy Fall invitational.
For Stark, the culture that he's helped build is everything.
"Although we are an individual sport, the team element of golf is so important," Stark said. "We emphasize the importance of grinding out every round and every shot to save the team score as much as possible … That attitude of never giving up leads to a culture where that's the norm and the expectation."
Both golf teams will play through their current invitationals then each team has two invitationals in Oct. before wrapping up their fall seasons. Both Bulldog squads have their fair share of expectations set for them. For the women, they don't seem keen on settling for anything short of another trophy on the shelf. For the men, a return to GLIAC glory seemingly is the goal.