As autumn and winter are approaching, the chances of getting the flu virus are still possible even if someone has the COVID vaccines and boosters.
After the first few weeks of the 2023-24 academic year, there have been more signs of the common cold, the flu and other types of sickness going around,
This is a reoccurring cycle every winter. Even with the COVID vaccines and boosters, the numbers of the flu virus are still going up as the temperatures begin to cool.
Rhonda Bishop, an associate professor at the School of Nursing, discussed why more people get the flu during the colder seasons and how it spreads easier through cold temperatures.
"Research suggests that flu virus transmission is more efficient during colder temperatures and lower humidity," Bishop said. "Changes in a person's nasal passage during the colder and drier weather make us more susceptible."
If anyone feels like they're starting to develop a sickness, they can visit Birkam Health Center, the campus resource that offers primary care services and acute care for all Ferris students.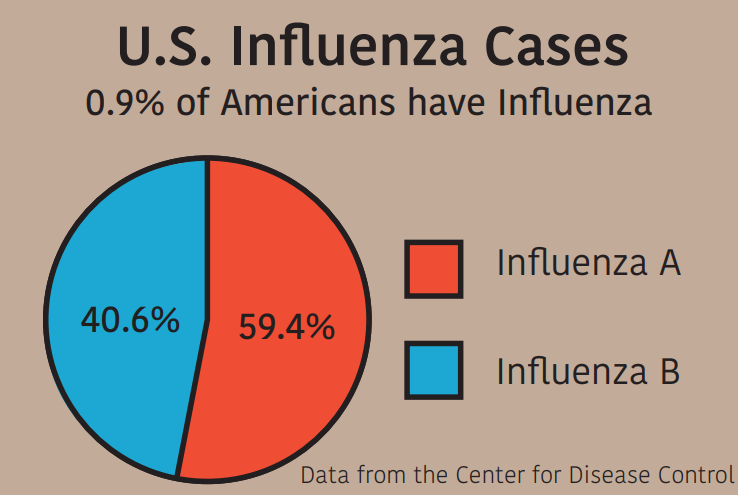 Nursing sophomore Kyle Durfee thought of a different reason besides colder weather as to why flu numbers are rising.
"Part of the reason we're having an increase in flu numbers is because school has started back up," Durfee said.
Exposure to other students, professors and the germs inside the buildings can cause a person to get the flu. This risk is greater during the colder seasons since viruses spread more easily in colder and drier air.
In addition to talking about how more people get the flu during the winter, Bishop also touched on people who get the vaccines and boosters to treat COVID and forget about the flu shots or vice versa.
"Some data suggests that the COVID vaccine [and] boosters from previous years have led to fewer people taking the traditional flu vaccine," Bishop said. "However, to put that into perspective, there is also a documented decline in vaccination rates in general, which appears to be associated with a decline in trust in public health and more specifically to a general distrust in COVID vaccines."
As a matter of fact, both the flu shot and COVID vaccine protect an individual against different viruses.
If a person is eligible to get one of the shots, the recommendation is to get both to be more protected.
Durfee mentioned how getting both vaccines can make someone less likely to be exposed to any virus or sickness.
"Sometimes when you get a certain vaccine, your body's immune system builds a reliability to the vaccine which would decrease how your body reacts to some viruses," Durfee said.
Both the flu shot and COVID vaccine can be necessary to keep more people healthy and fewer people laying in their beds and blowing their noses.
Nick Campau, Ferris' associate dean of student life, offered some advice that all students should consider during the colder weather.
"Get all the recommended vaccinations, stay home if you're not feeling well, and communicate that to your professors and employer," Campau said. "Also wash your hands regularly, and if you wish, wear a mask. I would advise this to all students as we begin to migrate inside with the change in the weather."
The Birkam Health Center plans to offer flu vaccine clinics at David Eisler Center on Oct. 10 from 12 p.m. to 1:30 p.m. and Oct. 12 from 11 a.m. to 12:30 p.m. for students who would like to get their annual vaccination. Contact (231) 591-2614 to learn more.