Over 1,400 people came to Williams Auditorium for Trevor Wallace, this year's Homecoming comedian.
Wallace, hosted by Ferris' Entertainment Unlimited, is believed to have brought in the largest crowd since COVID.
According to Ben Avery, coordinator for the Center of Student Involvement, Wallace brought in nearly 300 more spectators than E.U.'s last major celebrity guest, Waka Flocka Flame.
Opening for Wallace was fellow comedian Alec Flynn, who shared a similar comedic style to Wallace. Flynn's comedy drew roars of laughter from the crowd as he joked about love in a dorm room, electronic scooters, dating apps and alpha male influencers.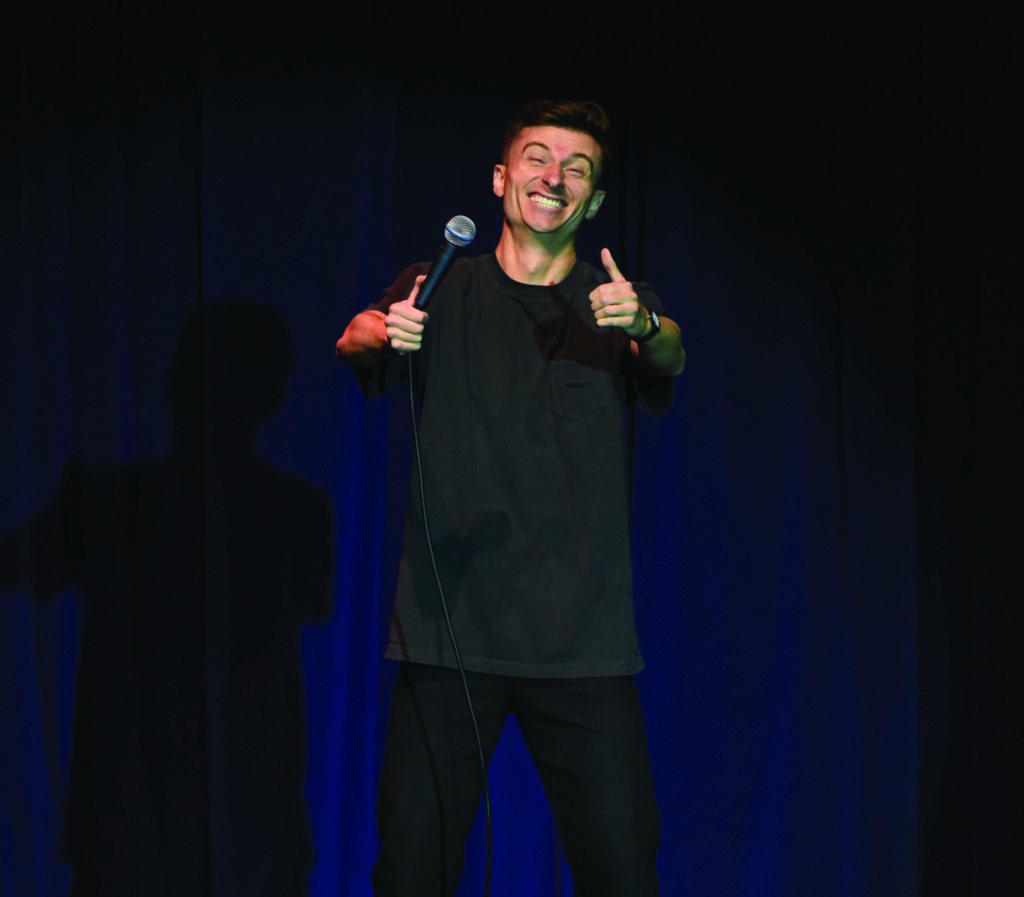 Flynn found the crowd in Big Rapids to be very supportive of him as an opening act.
"It was incredible," Flynn said. "It was an honor. [I'm] glad everyone came out. I know they're here for Trevor but to be so warm towards me, it really meant a lot."
Flynn, who is self-admittedly "not a math guy," jokingly estimated that there must have been a "quarter of a billion" people in the auditorium and that the "percentages" looked good to him.
Wallace's comedy, like Flynn's, was met with numerous fits of laughter from the auditorium through the night. His material ranged from jokes about his ex-girlfriend and dating red flags to the type of people that drive certain cars and the attention span of this generation.
Towards the end of his set, Wallace began interacting with the crowd. One student, who donned a hat that read "I pee in pools," received Wallace's attention. Wallace conversed with the student while ribbing him regarding information shouted out by fellow audience members.
Pre-pharmacy freshman Casey Marek knew of Wallace for years and enjoyed the audience interaction the most.
"Seeing that [Wallace] was coming here for free, [I was] like 'I gotta go to that'," Marek said. "I liked his audience interaction for sure. He would build off of it."
Wallace's final bit of audience interaction and the final moment of his show had an audience member ask for his ex-girlfriend's social media handles. Wallace's response spelled out "@yourmom."
The event, like Waka Flocka Flame's in the spring, brought in a long line of excited audience members that wrapped around Williams Auditorium early in the evening. Thirty minutes before the opener took the stage, the auditorium was already filled.
The turnout for Wallace's standup seemingly marks a trend of successful homecoming comedians. In the past, Ferris has seen the likes of Whitney Cummings, Marlon Wayans, Dave Coulier, Nick Offerman and Bo Burnham headline the event.
According to E.U. president Kaitlyn Walters, there was some discussion if Wallace would be able to top their previous spring event.
"It was a big debate in our group whether or not we would get a similar, better or worse turnout as Waka," Walters said. "Based on my observation, I think we did a little bit better than Waka. It was awesome seeing the line around the block. We always love it when as many students can come to our events."
E.U. was in charge of all events for Homecoming 2023, so their work was not over following the Wallace show. Walters described it as "really only the kickoff."
E.U.'s next headlining event will come in the form of their spring concert next semester.