In a break from conference play, Ferris State football defeated the American International Yellow Jackets on Saturday, Oct. 28 at Top Taggart Field.
Following the team's win against Michigan Tech in Houghton, the Bulldogs (6-2, 3-1 in conference) dominated the Yellow Jackets (2-7, 1-5 in conference) in every facet of the game, beating them 56-0. Ferris State scored four times on offense, twice on defense and once on special teams.
Head Coach Tony Annese took notice in the team's wealth of scoring.
"We scored a lot of different ways. A quarterback run, fumble recovery on a blocked punt, a punt return by [sophomore receiver] Brady Rose, interception returned by [junior linebacker] Jason Williams," Annese said. "I've been begging for the defense to score some points, so it's great to see them be dominant as well."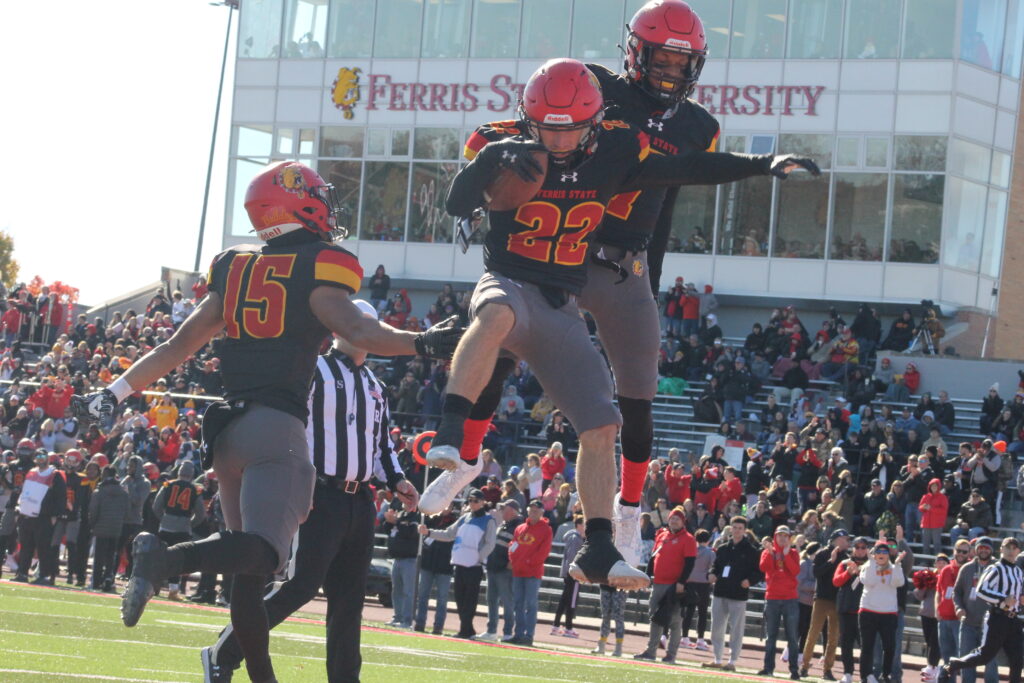 The Bulldogs started the game strong, scoring three touchdowns in the first quarter. Both quarterbacks senior Mylik Mitchell and sophomore Carson Gulker had rushing touchdowns, and the other was a defensive fumble recovery in the end zone by sophomore tight-end Cam Orr. In the second quarter, senior wide-receiver Tyrese Hunt-Thompson hauled in a 69-yard touchdown pass from sophomore quarterback Trinidad Chambliss, Rose returned a punt from 49 yards out and Williams returned an interception for a touchdown to end the Bulldog-dominated first half.
With the score 42-0 at halftime, the Bulldogs were able to give the backups a significant amount of time on the field. Chambliss was one of the players who took advantage of his opportunity by throwing a 43-yard touchdown pass to sophomore wide-receiver Cam Underwood in the third quarter and then throwing a 39-yard touchdown pass to junior wide-receiver James Gilbert in the fourth quarter. Chambliss' two touchdowns were the only two scored in the second half while the Bulldogs' defense held the Yellow Jackets to only 160 yards of total offense to secure their first shutout of the season.
Senior defensive back Major Dedmond was pleased with the turnovers created by the defense in the game.
"We created a lot of turnovers today and that was just our focal point as a defense along with getting off the field on third downs," Dedmond said. "We played a lot of guys today, so it was great to see a lot of guys get after it."
The Bulldog defense had three interceptions and three fumble recoveries against the Yellow Jackets.
Annesse was proud of the effort on special teams in terms of punting and punt-receiving.
"I'm the punt coach, so I'm proud we had a good net average there and Rose returning a punt for a touchdown," Annese said. "We got a lot of short fields and opportunities that really helped us score a lot of points and do things the way we need to do as a team to be successful."
The Bulldogs will face off against an undefeated Davenport team next week. The two teams faced off twice last season and both resulted in dominant Ferris wins where they outscored Davenport 69-14 in the two games. Since Davenport joined the GLIAC in 2016, Ferris has won every time. Despite the past dominance, Hunt-Thompson isn't feeling any different about the game.
"It's another big game, another opportunity to get better week by week and that's how we'll look at it as a team," Hunt-Thompson. "Just another opponent to get better each week, we take it day by day and we'll meet them next Saturday for a showdown."
The game against Davenport is set for Saturday, Nov. 4 in Grand Rapids. After this, the Bulldogs will play their final regular season home game against Wayne State on Saturday, Nov. 11.