Bulldog hockey opened up conference play this past weekend against Northern Michigan. 
Before the team's trip to Marquette, sophomore defenseman Andrew Noel sat down with the Torch and spoke about CCHA hockey, playing at a DI school, the state of the team, his nickname and the defensive core.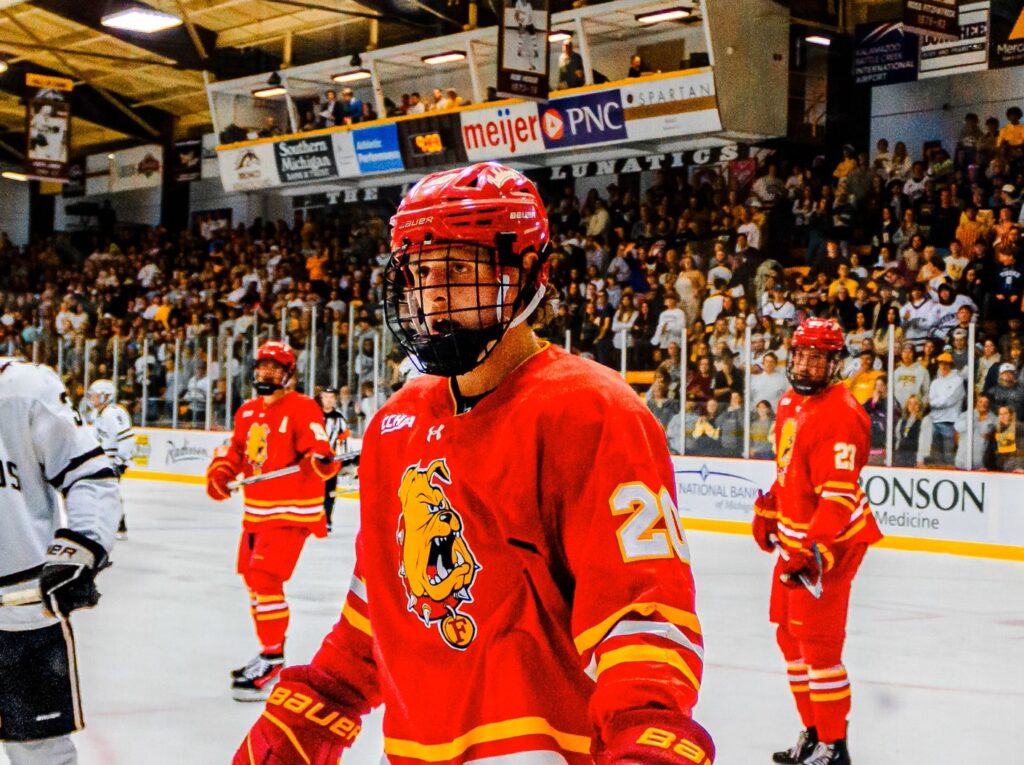 Q: What are your thoughts on CCHA play this year? What do you guys face when playing CCHA teams?
A: I think the nice thing about the CCHA is that it's always competitive. It's an older kind of conference in college hockey and it's a conference where there's not an easy night. Every night you need to go in with the mindset that any team that we're playing is not a walk in the park. I think that's the great thing about the CCHA. All the teams do a great job recruiting, everyone puts together a very strong team. As we saw last year, when it gets down to playoff time, anything can happen. We need to put our best foot forward this regular season but we want to be playing our best hockey in the playoffs to get the best chance of making a run. There's been a lot of movement throughout the CCHA this past year. [Minnesota State] getting a new coach, bringing in a lot of new player, and some other teams making a lot of additions and subtractions. Right now, you can't really tell until a couple of weeks into divisional play.
Q: With this being your second year, you're no longer the new kid on the block. What's it like having to step into a mature role where you may have to mentor freshmen?
A: It's nice to have a year under your belt. Most guys come into college hockey playing a couple years of junior, but it's a lot different playing college hockey. I think having the year under my belt has been a huge advantage. Not only just on the ice, but in general. Knowing kind of what to expect has been huge and being able to build off of what happened last year. It is something that I'm really looking forward to. We also have a lot of new freshmen. I think it's important to help them transition into college hockey and do what we can to bring them into the program and just welcome them with open arms.
Q: Not many people can say that they play DI hockey at Ferris State University. What does that mean to you?
A: Simply put, it's a dream come true. Growing up in the Boston area, you're always going to college hockey games. You're watching Boston University and Boston College play.Having the opportunity to play DI hockey has meant the world to me. Coming here and going to the rink every day is awesome. Practice is the best part of my day. I look forward to that. Just having this experience has been unbelievable and I would never trade it for anything in the world.
Q: Coming into the season, Ferris State was ranked seventh in the CCHA preseason poll. Where are you predicting that the team will end up?
A: That's kind of the cool thing about preseason rankings, it doesn't matter. Doesn't matter where we're ranked in preseason, it's what we do during the year. I honestly think the sky's the limit for this group. It's as far as we want to take is where we're going to end up. I think the more that we're able to buy in and really help bring everyone up to the level that we want to be at is where this club's gonna take. It's about the daily process and the things that we're going to do daily to help make this group better.
Q: I've heard you have a nickname of "The Sheriff," is that true? If so, why that name?
A: I believe so, yeah. I think a lot of the guys have kind of stuck to that nickname. I'm not exactly sure where it comes from. I know in junior [hockey], I had a nickname kind of similar to that. I think it just it comes down to the role that I play and how I like to police the ice make sure that everyone's playing the game the right way on our team. But, it's also on the other team and making sure that no one's stepping over that line. If they do, then hopefully taking care of business in a way that college hockey allows for.
Q: The defensive core you're playing with is pretty experienced. You've got senior Brendan MacLaren, senior Drew Cooper and Travis Shoudy in his second year, like you. What's the defensive core like? What's it like playing with them?
A: I think at the top of the defensive core is assistant coach Mark Kaufman. The way that he runs things has been absolutely awesome. We love playing in the back end for him. I think he really sets the tone for our whole defensive core. Obviously, having a bunch of veterans back there, like MacLaren, Ben Schulteis and Cooper and then Shoudy and the freshmen as well, has been great. Our whole defensive core mission is to keep growing. The addition of Nick Hale, a fifth year from Holy Cross, is just an invaluable piece of the puzzle. We're really looking forward to keep growing and keep getting better as a defensive unit.