Intentionally placed on the same day as Ferris' career and internship Oct. 26, Business Professionals of America invited sales and marketing professor Blair Entenmann to speak on selling yourself in a networking environment with the perfect elevator pitch.
Roughly 20 students gathered in a classroom of the business building to hear advice on how to professionally present yourself at a career fair. Not only is word choice important, but your attitude, the way you dress, the way you shake hands, the amount of time you spend talking with someone and even where you place yourself in the room.
Entenmann considers himself a "master networker." His speech included how to address all of the things you should be thinking about when presenting yourself at a career fair, along with networking in your specific industry.
"You don't have a second chance for a first impression," Entenmann said.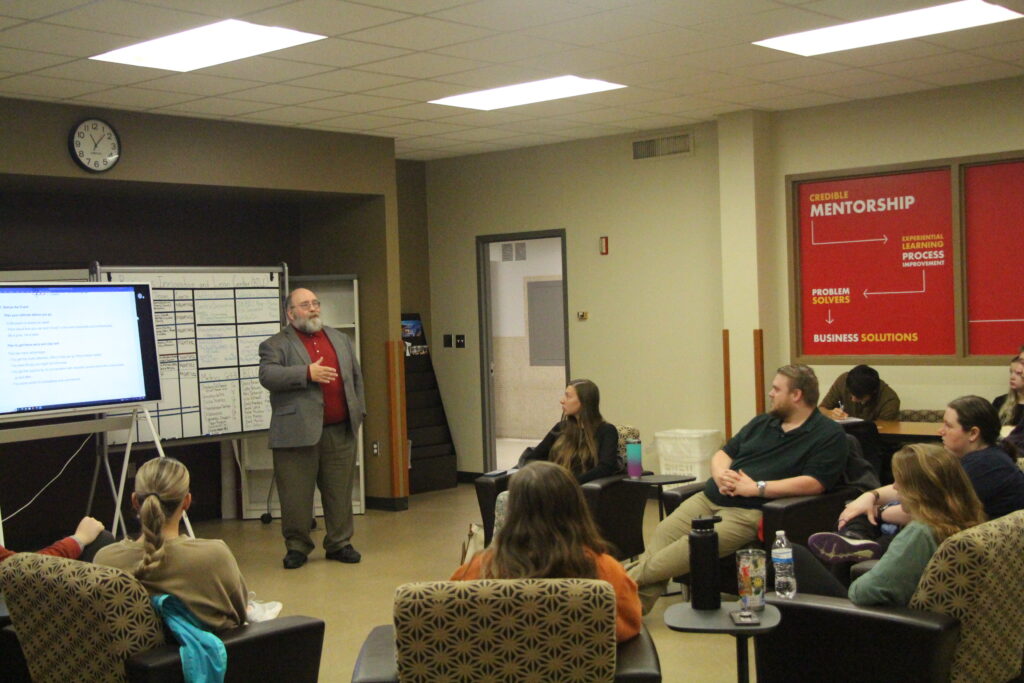 Employers judge their potential employees based on both social awareness and physical presentation. While factors such as weight, age and hair loss are not in the average person's control, one can control how they dress and take care of their body.
Entenmann's advice is to keep a positive attitude. Along with this, he believes it's important to dress nicely, shower and keep good posture. Outside of networking, Entenmann bring positive light to his body type by dressing up as Santa each year for Halloween while teaching.
"My best advice is to be yourself," Entenmann said. "You're trying to find a good fit with a company where you know you've got good chemistry. They appreciate the value you bring to the business and you appreciate the benefits to your career, but you gotta find a good fit. So be yourself."
The main focus of the speech was how those looking to participate in the career and internship fair later that afternoon should give themself a 30-second scripted introduction on who they are when they are speaking to a potential employer. This is what Entenmann called a "basic commercial" or an "elevator pitch."
"This should include who you are, what you do, who your ideal employer is and why they would want to hire you," Entenmann said in front of the room. "For students, this should look like what you want to do within your career, or what your major is and what year you plan to graduate."
BPA president Rebeca Klap organized this speech for students to have the opportunity to apply these techniques in networking events and career fairs.
"You have to already have something prepared to give to employers when you're first meeting them and making that first impression," Klap said. "Networking is really a testament to your communication skills. Expanding your network leads to so many new opportunities."
BPA vice president Elliott Silvernail believes the skill of networking and communication is important to any position and career, even if your position does not involve a lot of communication. This is one of the many reasons BPA continues to do what they do.
"We're about professional development and making sure anybody throughout Ferris has the tools they need for professional success," Silvernail said. "We also discuss tips about resumes and help with classes. Basically, any facet of business."
BPA holds their meetings every other Thursday and encourages students to check out their social media and link trees to see future events.