The campus programming board Entertainment Unlimited, released a survey on Wednesday, Oct. 25, giving students the opportunity to vote for a spring concert performer.
There were several different options to choose from spanning across several different genres including country, rap, pop and alternative. The survey for the spring 2024 concert was created to give students the opportunity to share who they'd like to see perform.
Entertainment Unlimited consists of students and staff who work together to create fun events and host them on campus.  They have meetings 5 p.m. on Mondays at the David Eisler Center room 217 to discuss events and ideas.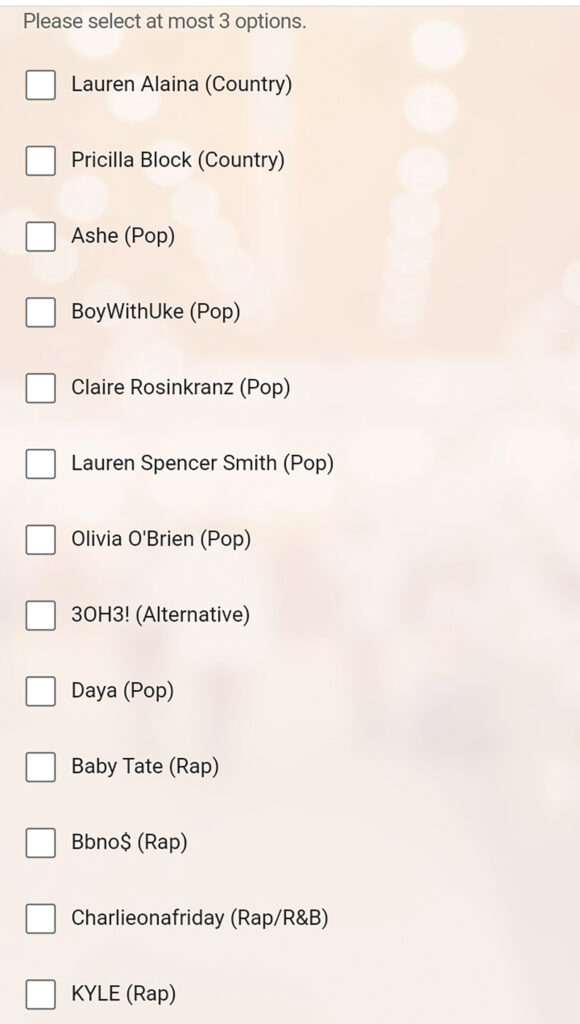 The vice president of EU, music and entertainment business  senior Alexis Stump, finds it important for students to be involved in these kinds of surveys in terms of expressing their likes, interests, and things they can look forward to.
"We want to make sure to keep students engaged and looking forward to campus events," Stump said. "College can be stressful, so being able to ask for their opinions is important to find their interests when trying to do something to help students relieve that stress."
In addition to the surveys help expressing student interest, Stump also stated why the surveys help EU as a programming board.
"These surveys help Entertainment Unlimited because it gives us a gauge on the interest level of the students," Stump said.  "The spring concert is our biggest event that we plan each year.  Being able to bring artists that students have shown a lot of interest in helps us make sure that the event is not only a success, but enjoyed by everyone who attends."
Ben Avery, the Coordinator for the Center of Student Involvement and Advisor of Entertainment Unlimited, finds these types of surveys important because of the variety of student opinion, but also the excitement that can go around the university and EU.
"We're excited to see what the student population thinks of our shortlist," Avery said.  "Student opinion is important in shaping our final decision regarding genre and general preference."
While the survey closed on Monday, October 30, at 4 pm, EU will be using the results to determine who to reach out to for the spring concert with an offer to come to the university.
For more events from EU, they will be posted on Ferris360 and BulldogConnect, as well as the EU social media accounts on Instagram, Twitter, TikTok and Linktree.