Ferris men's basketball finished their preseason campaign against Calvin University on Friday, Nov. 3 at Jim Wink Arena.
The Bulldogs beat the Knights 78-69 despite trailing in the first half, which is thanks to a stellar second half team performance by Ferris State.
Head coach Andy Bronkema was pleased with how his team battled back despite first half shooting woes.
"We created some good shots that didn't go in," Bronkema said. "The maturation today was that the guys continued to play hard and get back on defense despite not seeing the ball go through."
Bronkema also felt a huge reason for the win came from how "aggressive offensively" Ferris became late in the game.
Ferris got off to a slow start, with Calvin jumping out to a seven point lead at half. Junior Ethan Erickson was a huge reason the Bulldogs kept it a close game, by scoring 11 of the 24 first half points for the Bulldogs. Erickson ended the game with 19 points total.
"First half, we came out a little slow so props to Calvin," Erickson said. "In the second half, we started to guard better and played very fast paced offensively and that's how we started our comeback."
The game was a tale of two halves, with Ferris State taking over and outscoring the Knights by 17 in the second half, during which, Senior transfer DeSean Munson was tasked with slowing down Calvins' All-American forward and held his ground by recording a double-double and forcing four turnovers against the star big man. Ferris amped up their defensive pressure allowing only 24 points in the second half, which allowed them to get out in transition and score 41 points in the half.
Despite the win, senior guard Ben Davidson felt the team still needs to improve going into the regular season.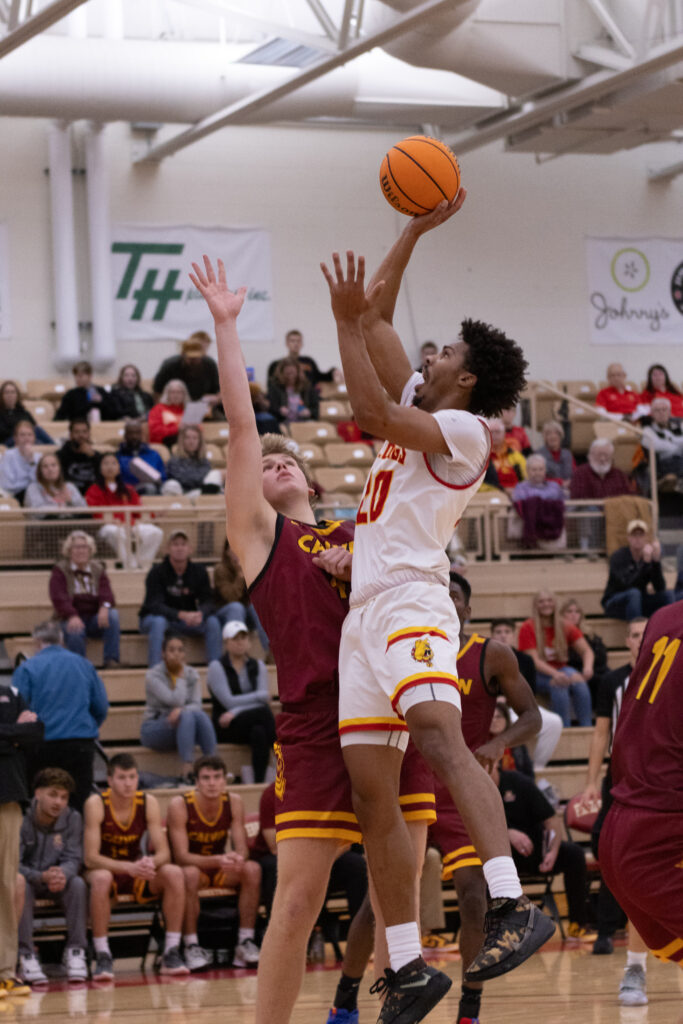 "I thought our defense played great especially in the second half and that is something we have to keep building off of," Davidson said. "We have to just keep getting better and not be complacent with where we are."
The preseason All-GLIAC first team player finished with 18 points to his name.
Calvin was ranked 10th in the DIII preseason rankings and is led by a familiar face. The Knights head coach, Bill Sall, formerly served as Ferris States' head coach from 2002 to 2013, where he then handed the reins off to his assistant and the now current head coach Bronkema.
Bronkema feels playing his mentor will always be a special matchup.
"We have the utmost respect for Sall and his team, so we knew it was going to be a battle," Bronkema said. "It doesn't matter if it's an exhibition or just playing checkers, that competitiveness is something he had and instilled into me, so we're cut from the same cloth. We battled today and we'll battle again, and our friendship will continue to be strong."
With the preseason now wrapped up, the Bulldogs will travel to Painesville, Ohio for their first game against Northwood University on Friday, Nov. 10. The Bulldogs' first home contest will be against Cleary University on Wednesday, Nov. 15.