Torchcast
Ferris State University's first-ever newscast.
Torch Sports Editor Marshall Scheldt joins Devin for all things Ferris athletics on this week's Torchcast.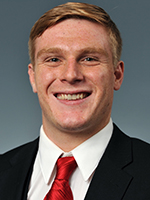 Devin talks about relaxation and Ferris' surprise $18.6 million, then chats with Ferris State hockey's Andrew "Slayer" Mayer about this weekend's season opener against Western Michigan University.
Devin speaks with Music on the Muskegon coordinator Josh Olszewski, reports on a drunk guy attacking the Taco Bell sign and recounts his experience interviewing Bo Burnham.
Devin talks about stalkers, crosswalks and Bill Nye the Science Guy. Then, he talks with Ferris' last ever homecoming king, Evan Pazkowski.
The second episode of the Torchcast features homecoming, election and Big Rapids news as well as an interview with Student Government President Wayne Bersano.
News Editor Devin Anderson hosts the inaugural podcast for Ferris State University.