Founder Roger Card adds another ten species to the current collection of critters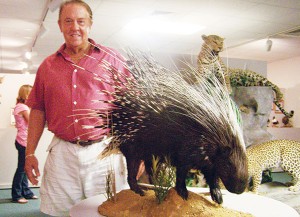 The Card Wildlife Education Center now has 195 animals set up for display. Founder Roger Card added ten new animals to the variety of specimen from around the world Monday.
Card, an alumnus of FSU, opened up the center in May 2000, along with his late wife Debra.
"I was a former Building Contractor in Mt. Pleasant. Some of these animals were in my office and people liked looking at them," said Card. Card mentioned that he wanted people to be able to view the animals up close. He also won an award known as the Safari Club World Hunting Conservation Award.
"It's for an accumulation of 250 species from around the world," said Card of the award. "We are going to display a beautiful bronze statue over here."
The newly added animals include an Armenian sheep, Iranian Mouflon, Big horned sheep, Nyala from Africa, Ostrich, African Porcupine, Lesser Kudu, Waterbuck, Gobi Argali and a Red Sheep.
"He brings in new animals every now and then, he's still hunting," said current Director of the Card Wildlife Center and Professor of Biology Dr. Joseph Lipar.
Lipar said he thinks that just being able to view the multitude of animals from around the world helps people gain an appreciation. Lipar said Card donated everything that is in the museum. It is a part of his collection of animals he donated over the years.
Current exhibits also include specimens from Michigan and North America, Central America, Africa, Europe, Asia and Australia.
Lipar said we have people commenting on it about how much they love it. He mentioned the center had 8,900-9,000 visitors in the last year.
"It's a dream come true to have the Card Wildlife Center," said Card. He also said that it is really special to have so many people coming in, looking at them.
There is also a book on sale Card wrote entitled "A Hunter's Journey". The book costs $20. All proceeds from the book will go to the Card Wildlife Education Center. Anyone interested in purchasing a copy can visit the Card Wildlife Education Center and put their phone number on a list.
Card said it's spectacular to have this in a small community. He also mentioned that people have told him they have not seen anything like it.
"I'm proud of it," he said.
The Card Wildlife Education Center is located in the Arts & Sciences Commons Room 011. The center is open from 9 a.m.-5 p.m. Monday-Saturday with free admission. Organized tours are available for school groups. In order to arrange an organized tour group, call 231-591-5387 or 231-591-5633 or visit ferris.edu/card.
"We want people to come and see what we have here," said Card.