The Battle at the Ballpark ended in disaster as the Bulldogs lost their fifth consecutive game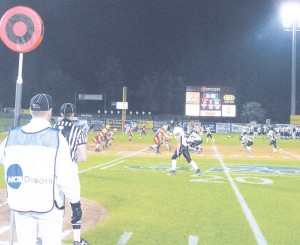 The Ferris State football team lost 38-6 to the Michigan Tech Huskies in the "Battle at the Ballpark."
Unfortunately for the Bulldogs, the night did not go quite as planned. Michigan Tech dominated on both sides of the ball. The Huskies took a 14-point lead early in the second quarter and never looked back.
A special evening for the football program soon became a long, rainy night for the Bulldogs. Senior defensive tackle Kory Deering recorded one tackle for the Bulldogs in the loss.
"It was exciting because I had a lot of friends and family here," said Deering. "It's just too bad the end result wasn't more exciting."
Senior Kyle Parrish started the game at quarterback and was intercepted early in the first quarter. Michigan Tech took advantage and marched down the field to take an early 7-0 lead.
Redshirt Sophomore Tom Schneider completed one of four passing attempts for four yards. As a team, Ferris had only 32 yards passing and threw three interceptions.
The Bulldogs had the ball in the red zone on two separate occasions in the first half, but had to settle for only field goals.
Even with the missed opportunities, Ferris was still in the game at halftime as they were only down 20-6. Michigan Tech dominated in the third quarter to put the game out of reach. The Huskies were able to hold the ball for an incredible 13 minutes and four seconds during the third quarter, in which Ferris was only able to amass nine total yards.
Offensively, the Bulldogs managed just 50 yards in the second half and did not score a touchdown for the second consecutive game.
Head coach Jeff Pierce said that Ferris suffered quite a few injuries throughout the game, which affected the outcome.
"Unfortunately we're a really young team right now and with about a dozen injuries tonight, we're getting even younger out on the field," said Pierce.
The Bulldogs fell to 1-5 overall and 0-5 in the GLIAC after the loss. The next game for Ferris is on Oct. 10, as the Bulldogs host the University of Indianapolis for "Homecoming" at Top Taggart Field.
Last year, Ferris defeated Indianapolis 31-24 on a touchdown pass by Kyle Parrish in the final 30 seconds of the game. The Bulldogs lead the all-time series 16-11-1 and have won 13 of the previous 17 meetings.