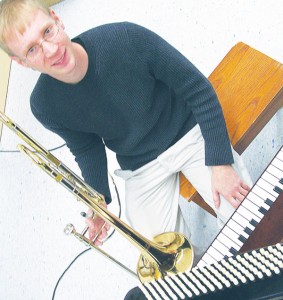 Assistant Professor of Music Matt Moresi has been happily playing the piano for 23 years, but has recently decided to take on the accordian.
Moresi, now age 28, began playing piano at age five when his father started giving him lessons. After the first year, he took lessons with a variety of local piano teachers who came and went with the years. In high school, he met his most influential instructor who opened up a brand new world of modern music to the aspiring young musician.
Growing up in the small logging town of Klamath Falls, Ore., Moresi had what he would describe as a "normal" childhood. "Because my father was a high school band director, I did get a healthy dose of music," said Moresi. "I used to go with him to all of his concerts and games that his band was playing at." This early exposure led Moresi to quickly gain an interest in musical performance and instruction.
In addition to his skills on the ivories, Moresi can play the trombone, played the saxophone and string bass in high school, and recently began teaching himself the accordion.
While attending the University of Oregon in Eugene, Ore., Moresi attained a Bachelor's degree in Trombone Performance and later a Master's in Jazz Studies. He then followed work to Michigan in the 06-07 school year and is now starting his fourth year teaching at Ferris State University.
Since arriving, Moresi has found himself at home in Big Rapids. "I really like it here. I like the students. I like the job I do. I get to have a Jazz Band. That's like my big thing… I have a lot of fun with that." In addition to directing the university's Jazz Band, Moresi teaches Beginning Class Piano, Music Fundamentals, and Music Appreciation.
When first asked why he teaches, Moresi jokingly replied "I love to tell people what to do." He then said that he was drawn to instruction both to somewhat follow in the footsteps of his father and because he has "always found it very gratifying to explain things to people and then for them to 'get it.'"
Senior Cory Grifka, optometry major, had Professor Moresi for Beginning Class Piano last spring and described him as "an amazing piano teacher who made learning easy and enjoyable."
Kyle Pollard, a senior and mechanical engineering major, had a similar experience in the class and said, "He was a pretty cool guy who gave you a lot of room to work with when learning. If you messed up, he would tell you what you did wrong and how to fix it."
As a musician, Moresi has performed at venues ranging from local hotspots such as Schuberg's Bar, where his students can see his band play for some extra credit, to gigs around the country and all over his home state of Oregon. He has won multiple awards for his playing including 2003's Reno Jazz Festival Outstanding College Performer and 2004's Reno Jazz Festival Outstanding College Trombonist.
Matt Moresi the composer blends a mixture of traditional jazz sounds with modern pop and rock influences and a sense for the eccentric. This neo jazz style made him a finalist for the 2005 American Society of Composers, Authors and Publishers (ASCAP) Foundation's Young Jazz Composer Awards. One of his pieces was played in Finland last year and his music has been played all over the U.S.
As far as his future at Ferris goes, Moresi says, "The ten year plan is just to keep trying to build the program here, especially with the Jazz Band."
When he isn't busy teaching classes, performing piano, directing the Jazz Band, or writing new music, Moresi enjoys travel and exercise as well as cycling and cooking.
Matt Moresi is described by his students and peers as a talented individual who shows his passion for music on a daily basis. When asked to describe himself in five words he responded, "Five words is too many."