In addition to the progress, a contest is taking place to name the suites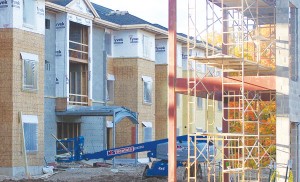 The progress of the East Campus Suites is currently "right on target in terms of the timeline," according to Jon Shaffer, Director of Housing Services.
Six years ago, discussions of a new housing project took place in regards to creating a new set of suites. Construction of the former East Campus Apartments began last spring. Former buildings A, B, C, D, F and G are being replaced.
"They're doing a great job," said Shaffer of the progress. He also mentioned the location is "absolutely beautiful" as well.
One of the goals of the new project is to make everything as "environmentally friendly as can be," said Shaffer. The buildings that came down were recycled.
"I want people to know we're going to set a good example; there's a lot of things we're doing to make the impact (on the environment) smaller," said Shaffer.
Amenities will include air conditioning, one parking space per bed, green spaces, picnic tables, elevators in each building, a laundry room on the second floor, along with many others.
In relation to the environmentally friendly setting for the future suites, there is currently a contest going on to name the East Campus Suites, which are set to open in the fall of 2010. The names must be in correlation with the nature theme for all three buildings. All on-campus and off-campus students are welcome to submit entries. Alumni are welcome to participate as well.
Shaffer said the whole idea is to "try to capture that nature theme that's going on the property."
The deadline for entries is Friday, Oct. 16 at 5 p.m. Currently, there are 30 to 40 entries. Submissions can be emailed to housing@nullferris.edu.
The winner of the contest will have first pick of a suite in the apartments. If the winner is not eligible to live in a suite at the time, there will be other options available for a prize.
For more information on the progress of the East Campus Suites, visit www.fsuech.com.