The Bulldogs host the UConn Huskies this weekend in the first home series of the season
The Ferris State hockey team started the season on a winning note, beating Canisius College 5-1 on Friday.
Ferris struck quickly as freshman Eric Alexander scored 1:16 into the first period. Junior Zach Redmond added a power play goal with 10:31 remaining in the first to give Ferris a 2-0 lead.
Canisius cut the lead to 2-1 with the only goal scored by either team in the second period. The Bulldogs then went on to dominate Canisius in the third period as they added three additional goals. Freshmen Travis Ouellette and Kyle Bonis each scored their first collegiate goals and senior Aaron Lewicki tacked on the fifth and final goal with 1:13 left in the game.
Three of the four freshmen scored their first career goals on Friday. Junior goalie Pat Nagle said he is glad they fit in so well with the team.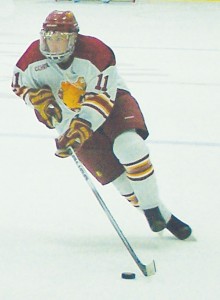 "It's nice to see them contributing right off the bat," said Nagle, "A lot of times in college programs guys take a couple years until they get the opportunity and sure enough they got it on the first night."
Sophomore Taylor Nelson had a solid outing with 23 saves on the night, 11 coming in the first period. Nelson tallied a save percentage of .958 in the game.
Canisius was able to shut out the Bulldogs on Saturday, 1-0. Ferris outshot the griffins 48-21, but could not score on sophomore goalie Dan Morrison.
"We got a ton of pucks to the net and had a lot of offense, but just couldn't quite finish," said Nagle.
The teams combined for a whopping 131 minutes of penalty time, with Ferris picking up 72 of those minutes. Neither team was able to cash in on the power play as Canisius went 0-6 and Ferris went 0-7. The Bulldogs went a combined 1 for 10 on the power play over the weekend, but Nagle said the team has not had a chance to practice it much yet this season.
Canisius scored the lone goal in the game 37 seconds into the third period to break a 0-0 tie. Nagle stopped 20 of 21 shots on net, but still took the loss.
The Bulldogs host the University of Connecticut Huskies on Oct. 16 and 17 in their first home series this season. Connecticut is 1-0 this season as they dominated their first game by a score of 7-2. Nagle said he is hopeful that the team can put together a few non-conference wins.
"Hopefully we can put it all together once we get a couple games under our belt," said Nagle.