The Ferris soccer team dropped its last two games of season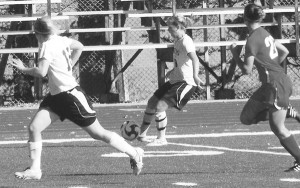 The Bulldogs' two-game winning streak was snapped after a 3-0 loss to the Saginaw Valley State Cardinals on Oct. 28. The contest was scoreless at halftime, but Saginaw Valley broke the tie at the 47-minute mark, as they were able to score on the right side past senior goaltender Kali Alsager. From then on, Ferris was not able to generate much offense as the Cardinals added two additional goals in the second half.
The Bulldogs held a 12-11 advantage in shots on goal, but never found the back of the net. Jacylyn Barrett scored all three goals for Saginaw Valley.
The team closed out the regular season on a down note as they fell 2-1 to Grand Valley State University.
The Bulldogs gave the No. 3 ranked Grand Valley State Lakers all they could handle in a rain-filled contest as Ferris held a 1-0 lead with only eight minutes remaining.
Junior midfielder Kara Lovelace tallied two goals and an assist for the Bulldogs this season.
"It was an awesome game, but unfortunately they made two great goals which we could not do anything about," said Lovelace.
Sophomore forward Bri Borgman tallied the lone goal for the Bulldogs as she fired a shot to the upper left corner of the net to give Ferris the lead 19 minutes into the game.
The team could not hold the lead, however, as Grand Valley was able to tally two goals in the final eight minutes to claim the victory. The Lakers dominated the second half as they outshot Ferris 15-1 and held a 26-6 shots on goal advantage throughout the match.
Alsager had one of her best outings of the year as she tallied eight saves in the contest.
"It is sad for the season to come to a close because the team was starting to really come together," said Lovelace.
Ferris fell to 3-13-2 and 3-10-1 in the Great Lakes Intercollegiate Athletic Conference for the season. The Bulldogs scored 22 goals in their 18 contests throughout the season. Ferris allowed a conference-worst 57 goals overall.