Student speech competition brings issues center stage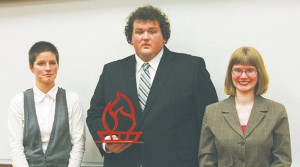 At this fall's Campus Wide Public Speaking Competition, three students presented a speech on a topic regarding "Opportunity and Social Change."
Originally, 13 students signed up to compete for one of the top three places, but only six were able to participate because some students became ill with the flu.
The three finalists, Sam Cullen, Emily Harper and Kaytlyn Sheldon, presented their speeches last Wednesday. Cullen received first place for his speech on, "youth football brain damage."
Dr. Sandy Alpasch, professor of communications and humanities, co-coordinator of the Political Engagement Project and advisor for fraternities Pi Cappa Delta and Lambda Pi Eta, said each year for the competition, a theme is chosen to represent what is currently going on in the community or in society.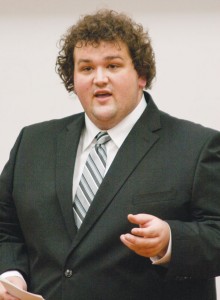 Alpasch said "Opportunity and Social Change" was chosen as a theme because of Ferris' 125th anniversary.
"This is truly an all-around FSU project," said Dr. Alpasch of the competition.
There were $600 in prizes. First place received $300, second place received $200 and third place received $100. Each finalist also won a trophy composed of the FSU torch symbol. Students in the welding engineering and technology program constructed the trophies.
Cullen, a senior majoring in business administration, received first place in the competition. In his speech, he included a story of a high school football player who was injured with a concussion due to improper football equipment.
As for his choice of topic, Cullen said, "My debate coach brought it up; I thought it would make a good topic." When he learned he was the winner, he said he was "surprised."
Harper, a junior majoring in secondary English education, took second place. She said, "It was an enjoyable experience." Her speech focused on taking action to stop the issue of factory farming, the poor treatment of farm animals and what can be done to stop it.
Harper said animal rights and vegetarianism were her inspirations for her choice of topic.
Sheldon, a senior majoring in applied speech communication, took third place.Her topic was "the future of newspapers". She discussed how the demise of newspapers can hurt society and what can be done to save the newspaper industry.
Sheldon said she chose her topic because she was a recent intern at her local newspaper and a freelance reporter as well. For her, participating in the public speaking competition was "very interesting."
Dr. Alpasch mentioned the votes were the tightest they have ever been in the four years the competition has been running.
There will be another campus wide public speaking competition this coming spring. The topic will be "Opportunity and Social Justice."