Torch Staff Report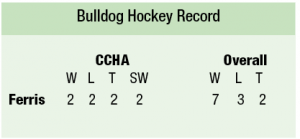 The new points system for the Central Collegiate Hockey Association (CCHA) includes one major change from last season.
Each win, whether in regulation or overtime, is worth three points instead of two. If two teams are tied after overtime, then there will be a shootout.
Each team receives one point for reaching the shootout and the winner receives an additional point for a total of two. Any loss in regulation or overtime garners zero points.
Last season, the CCHA was the first Division I college hockey league to add a shootout after overtime in an effort to reflect more closely the NHL system. The CCHA standings include four columns, while the overall standings still have three. An additional column denoting shootout wins (SW) indicates the number of post-overtime victories the team has.
If a team reaches the shootout, it is recorded as a tie in the overall standings whether they win or lose. When a team's CCHA record is given, it may contain four columns instead of three depending on whether or not they have won a shootout. The Bulldogs have a conference record of 2-2-2-2. The team has played six conference games, but there are eight numbers in the standings. The first three numbers combined give the number of games played.