Ferris hosts blood drive today in Student Recreation Center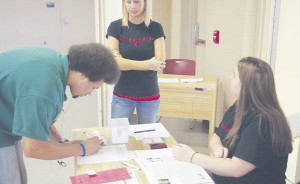 The Ferris Chapter of Red Cross is hosting their third blood drive on campus this year and they hope to have more donors.
Emily Burley, member of the Ferris State Chapter of Red Cross and pre-pharmacy major, said, "Our goal is usually around 87 (donations), the first two (blood drives) we got more."
The goal for each blood drive is around 80 to 90 participants for the nine blood drives held on campus during the year.
Burley said during the last blood drive, a total of 90 liters of blood was donated, which is more than they usually receive.
"Generally, the goal the Red Cross sets is a little under 1,000 for our blood drives," said Chris Hagan, President of the Ferris State Chapter of Red Cross.
"Last blood drive we had a goal of 87 and missed it by eight," said Hagan. "For the year we are still four or five pints over the goals set."
Hagan said the Red Cross chapter will be holding a blood drive each month during the spring semester.
In the past, Burley said they have not seen an increase in overall blood donations during the holiday season.
"It's been about the same as any other time," said Burley.
Hagan said on average they get around 85 donations per blood drive.
The blood drive will take place today from 12 to 6 p.m. in the gymnasium of the Student Recreation Center. This is the last blood drive of the semester.
An appointment can be made at givelife.org and the sponsor code "FSU" has to be entered. An account must be created on the Web site in order to schedule an appointment. Walk-ins are welcome as well.
According to the Red Cross' website, someone in the U.S. needs blood every two seconds. Only five percent of the eligible U.S. population donates blood in any given year and healthy donors are the only source of blood.
Questions and concerns regarding blood drives, donating blood, as well as the general guidelines to determine donor eligibility are available on the Red Cross website.