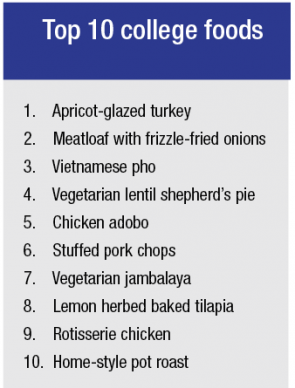 Apricot-glazed turkey. Meatloaf with frizzle-fried onions. And Vietnamese pho. These may not sound like typical dorm foods especially the Asian rice noodle soup but they topped the list of most popular cafeteria items according to Sodexo, which provides food service at 600 campuses across the country. There are regional differences, of course, reflecting the tastes students developed at home. In the Midwest, the top three favorites are home-style roast beef, carved roasted turkey and mac n' cheese, which may explain the freshman 15. In the Southwest region? Fish tacos. The Mid-Atlantic? Chicken pot pie.
The Sodexo survey found that students want comfort foods, said Sodexo spokeswoman Monica Zimmer. "If you are a New Englander studying at Tulane, maybe red beans and rice becomes your comfort food," Zimmer said, "and maybe for a Southerner studying at M.I.T., clam chowder becomes their comfort food."
Vegetarian fare also has become more popular, she said. The list was determined in part from votes taken by students who attended the company's food-trend expos held throughout the year. Feedback also came from focus groups, a restaurant audit and other research. None of the items on the Sodexo list is as surprising as one of the most increasingly popular foods at the University of Illinois at Urbana-Champaign: kimchi, the Korean pickled cabbage. U. of I. students are going through 30 to 40 gallons of it each day, said Dawn Aubrey, a senior assistant director of dining. Students "ove it. They use it as a condiment and incorporate it into the made-to-order stir-fries. We have even had students put it on hot dogs," Aubrey said. "We are going through amazing amounts of it."
Source: Sodexo (c) 2009, Chicago Tribune. Visit the Chicago Tribune on the Internet at http://www.chicagotribune.com/ Distributed by McClatchy-Tribune Information Services.