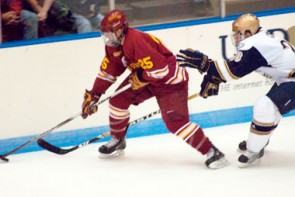 The Ferris hockey team is heading into a monumental matchup this weekend against the second best team in the nation.
The nationally sixth-ranked Bulldogs will face off against the No. 2-ranked Miami RedHawks this weekend in a home series that pits the top two teams in the CCHA standings.
Ferris enters the series following a sweep of Notre Dame and is currently 10-2-2-2 in CCHA conference play this season.
On the other side, Miami comes in after being swept for the first time this season at the hands of Robert Morris University. Head coach Bob Daniels knows that the RedHawks are coming into the series looking to vent some frustration.
"We already knew that this was going to be a hard-fought game anyway," said Daniels. "The fact that they're coming off being swept just adds to the focus and intensity that they're going to be bringing to this matchup."
In the first series between the schools back in November, both teams played physically and had strong goaltending. Ferris pulled out two shootout victories to claim four of the six series points on the road.
Though this series will give the winner an advantage in the CCHA standings, Daniels knows this is one of many tough tests the Bulldogs will face the rest of the season.
The series will begin Friday at 7:05 p.m. at Ewigleben ice Arena and will conclude with a 5:05 faceoff on Saturday.