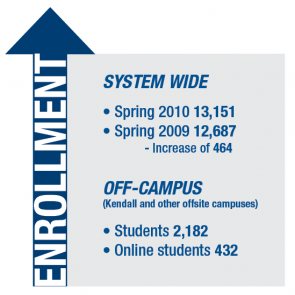 In the spring 2010 semester, Ian Mathison, Dean of the College of Pharmacy, said the pharmacy program has not lost students due to the cut of the Michigan Promise Scholarship.
"The difference is due to students changing their program of study," said Mathison.
In the fall 2009 semester, 552 students were enrolled in the Pharmacy program. This semester, 548 students are currently enrolled. Mathiason said another cause for the decrease is a number of students graduated in December 2009.
As for the College of Business, Dean David Nichols said enrollment has continued to grow.
"College of Business enrollment overall is up 4.3 percent in registrations, and a little over 1 percent in terms of students in the classrooms compared to last year," said Nichols.
Nichols said the greatest area of increase is in their fully on-line sections. As for a total record number for all Ferris online classes, the usage is up.
Kristen Salomonson, Dean of Enrollment services, said it is hard to say if the Michigan Promise Scholarship has had a negative impact because in the fall, Ferris went back and provided funds to students who were recipients of the scholarship.
"We try to get them alternative aid as much as possible," said Salomonson. She said Ferris has been very proactive in providing assistance and "doing all we can to help students get a Ferris education."
"Despite the negativity rise from the cut of the Promise scholarship across Michigan college campuses, 'it's overall pretty positive' for Ferris," said Salomonson.
Nichols said he feels that the loss of the program will become evident in Fall 2010, but that is not based on any hard data. Salomonson said she does not know how clear the picture (enrollment numbers) will be for the fall 2010 semester as well.
"We hope we can continue to have that flexibility," said Salomonson. She noted that a lot of students are going towards online classes more than ever.
Ferris generally obtains about 80-85 percent of its first-year students from fall semester into spring semester, according to Salomonson.
"We're sure the figures are holding quite nicely," said Salomonson. She anticipates Ferris will hold about 70 percent of the 2009-2010 first students in the Fall 2010 semester.
Along with the College of Pharmacy and the College of Business, Salomonson said all of Ferris' colleges are doing very well and the credit hours are up.
In honor of Martin Luther King Jr. Day taking place this week, Salomonson said, "We continue to do very well with growth and diversity."
As for a record enrollment number this academic year; Salomonson said Ferris has never had as many students on campus as it does in 2009-2010.