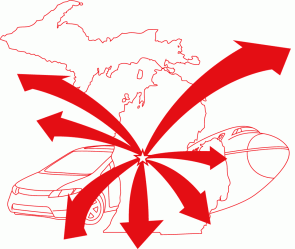 Spring break is fast approaching and students are deciding if and where they will be heading for vacation.
Students' selections can be determined based on whether they want and then decide if they want to drive, fly, or take a train to that destination. But, that's only part of the trip as there are many options for shelter such as a hotel, resort, or beach house. All for a price, of course.
Deb Wright, intern at Time Two Travel LLC in Big Rapids, said, "Students who come to us usually have a set price range and we try to work something out according to that number."
Wright said that many students go for an all inclusive vacation package when they travel because it can greatly reduce costs. All inclusive travel means that the hotel, meals, drinks and more are included in the cost. Wright added that students usually opt to fly from the Detroit Metropolitan Airport because it tends to have the lowest prices.
"Cancun, Miami, Tampa, Panama City and areas surrounding those places tend to be hotspots for spring break travelers," said Wright.
Wright said a tip for travelers is to get a real passport. Unbeknownst to many young travelers, an enhanced driver's license only works for crossing a country's border when driving. Enhanced driver's licenses do not work for air travel when going to a different country.
Ann Shanteau, travel consultant for Pathfinders Travel Inc. in Big Rapids, suggests traveling on specific days in order to reduce the costs of air travel.
"Leaving for vacation on a Monday instead of during the weekend can reduce costs significantly and you can still vacation for five or more nights," said Shanteau.
Shanteau also suggests booking everything for your vacation early.
"Spring break is a big time for traveling and flights and hotels fill up very fast. You don't necessarily want to wait till the last minute to get a cheap flight because there might not be anything available by then," said Shanteau.
"Going on a road trip to Florida is going to save me and my friends a lot of money," said Justin Greenfield, sophomore in the nursing program. "It will cost us only about $200 per person to go because we plan on staying with friends along the way."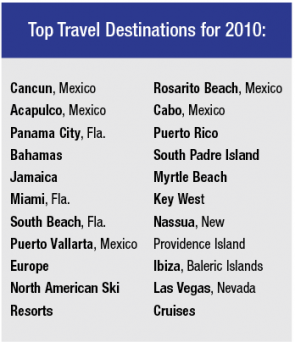 Greenfield said he went on a road trip to Florida last year as well and saved money by sleeping in his car in the parking lots of Wal-Mart, Sam's Club, and McDonald's instead of staying in hotels.
Laura Wroblewski, junior in the social studies education program, said for spring break her freshman year she drove to Leesburg, Fla. with three of her friends. She stayed with her friend's uncle and he fed them every day.
"Leesburg is in the middle of the state so we had to drive to all the beaches," said Wroblewski. "But it was really awesome because we had a free place to stay and free food so the only expense we really had was the gas to drive there and back."
Wroblewski says this year she will be going to Cocoa Beach with two friends and staying in a hotel. She said it won't be the same as two years ago because of the greater costs, but expects it will still be enjoyable.
Greenfield and Wroblewski are like many vacationing students opting to stay with friends or family, buying and making their own food, and staying somewhere a little farther from the beaches to reduce costs.
Students may also look to less tropical destinations for Spring Break travel. The Amtrak train station in Grand Rapids offers a round trip ticket from Grand Rapids to Chicago and back at a cost between $33 and $42, depending on the time of week, and take around four hours to each way. The upper peninsula of Michigan is also an option for those more interested in snow drifts than sun tans.
Regardless of destination or cost, experts agree the most important part of any spring break trip is staying safe and having fun in moderation; looking for options to make it a memorable spring break and not a spring "broke".