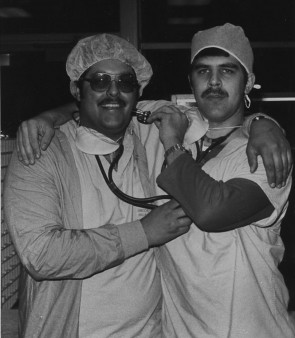 The public address announcer boomed: Ladies and gentlemen – There's a car in the parking lot with its lights on – a pink Cadillac with leopard skin seats!!
Suddenly, two young men dressed in doctors' scrubs leap from their seats at center ice, bump into each other, and run around in circles like a crazy Marx-brothers skit.
Flash back to circa-1982 . . . it's a Bulldog hockey game at Ferris State's Ewigleben Ice Arena and the late Bill Buckingham, the beloved "voice of the Bulldogs," has delivered his ear-splitting queue to Frank Marzano and Gary "Bear" Blied, who go into their familiar fan-pleasing routine.
Meet, or recall if you may, "The Doctors."
There Is Hockey – And Then There Are Hockey Fans
Ferris hockey fans laud the "Dawg Pound," the infamous student section that has made a huge impact over the years for opposing teams and goaltenders trying to steal a win from the Bulldogs. This vocal throng of uncompromising loyalists has girded a reputation around the Central Collegiate Hockey Association for making Ewigleben the toughest venue imaginable for road teams.
Yet it was two free-spirited "class clowns" – Marzano and Blied, who dotted the folklore of Bulldog Hockey during the formative years ofDivision I competition at then Ferris State College.
The Doctors were indeed in the house before the Dawg Pound emerged from the kennel.
Blied and Marzano were undergraduates at Ferris in the early 1980s when their passion for the Bulldogs collided with the theatre of the absurd. Dressing in doctors' scrubs, stringing a rubber chicken in the rafters and connecting with fellow fans became the stuff of hockey legends.
Today, Blied pilots a Boeing 767 out of Chicago for American Airlines and Marzano caters his homemade pizzas to customers in Plymouth, Wisc. Though their professional paths may never cross, their time together at Ferris remains indelible.
Marzano grew up in Detroit as a lifelong Red Wings fan. When he was nine-years old, he met the great Gordie Howe while delivering produce door-to-door with his uncle. Meanwhile, across the state, Blied was living out his formative years in Battle Creek and finding employment as a firefighter to help pay his way through college.
Both went on to enroll at Ferris in the College of Business. They met as sophomores. Blied was a Resident Advisor at Cramer Hall and Marzano was kind of an eccentric. Their routine began innocently enough at a Halloween-themed Bulldog Hockey game when Gary came dressed as Father Guido Sarducci (of Saturday Night Live TV fame) and Frank wore a pair of old receiving scrubs from a Detroit hospital. The following week, they both attended a game dressed in scrubs and the rest, as they say, is history.
Friends In Hockey Are Friends Forever
"I just love the legacy and how the community embraced us," Marzano said. "Like wow, what great people surrounding this hockey team. They bought new scrubs for us and expected us to be in costume at every game – what a cool gig."
Dean Davenport, Ferris State's athletic director at the time, also approached Marzano and Blied about continuing their game-night antics. At one point, their picture was splashed across the cover of the Bulldog Hockey game program.
"We became a fixture. When the opposing team was introduced to the crowd, we would direct the singing of 'God Bless America' and drown-out the public address," Blied said. "Or, we would pass out newspapers and when they introduced the other team no one paid attention and had their noses buried in newsprint."
There's Something Special About Bulldog Hockey And How It Jump-Starts The Campus
Their routine morphed to include the hanging of a rubber chicken from the rafters. Fishing line was tied around a tennis ball, thrown over one of the iron beams and the slogan "SIEVE" was displayed to taunt the enemy goaltender. Doctors Blied and Marzano would also peruse the stands in search of a "patient" and would basically make a human sandwich out of their willing victim. Professor Emeritus Doug Heeter, founder of the Ferris Blueline Club, was a favorite target.
"We'd fall on opposing fans, give them CPR, listen to their feet and say they had no sole (sic). There was even one guy from the University of Michigan who would give us the eye and say 'co me and get me," Marzano chuckled.
Blied concurred with the playful irreverence of that period and how everyone seemed to enjoy their goofy behavior.
"There was such good humor back then. The laws of civility were in play where things couldn't get out of hand and people would not be offended. We definitely pushed the envelope, but we never crossed the line."
The Doctors have since taken long journeys away from their alma mater and have fulfilled their lives with family and business. Marzano, after graduating in 1984 with a degree in Hospitality Management, traveled around the country for 20 years, with stops along the way in Texas, Chicago, back to Michigan, Oklahoma, St. Louis and Wisconsin; all in hospitality-related jobs. Blied, a 1983 Business Administration graduate, enlisted with the U.S. Air Force in 1984 where he became a pilot and achieved the rank of Major. After 22 years of active duty, the decorated Persian Gulf War veteran went to work for American Airlines and is still flying internationally out of Chicago today.
"It's the greatest job in the world and it reminds me about what is fantastic about Ferris," Blied said. "It really prepared me for working in the real world. It was a hands-on type of education with a unique mix of faculty with experience in their field. You get a lot more bang for your buck as a Bulldog!"
Some Sound Advice From Another Doctor
Blied and Marzano were particularly affected by a pep talk they received from the very man the ice arena is named for – President Emeritus Robert Ewigleben. Twice the Doctors lunched with Dr. Ewigleben, first at McDonald's and later at the old Best Western. He was one of their top supporters and left quite an impression.
"He made us realize that when we go out into the working world we are more than just college graduates because we are Ferris graduates," Blied said. "He said to be sure you act proudly about your education and represent your university because it is judged by how well you do and how you carry yourselves."
The Doctors were also invited to attend a Bulldog Hockey awards banquet to receive special recognition from the Blueline Club in the form of "honorary medical degrees." Unfortunately, both showed up in suit and tie and were immediately chased home and asked to return wearing their doctor duds.