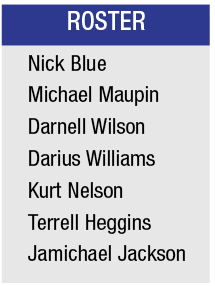 One of Ferris State's men's intramural basketball teams won the regional championship Feb. 19-21 at Western Michigan University.
The tournament consisted of 12 teams including Ferris. The team went 5-1 during the tournament and then manhandled Indiana University South Bend 50-29 in the championship game to claim the title. In doing so, Bulldog Michael Maupin made the All-Tournament team as he helped Ferris to the championship.
By winning the regional championship, the team has now been invited down to Nashville, Tenn. to compete in the National Campus Championship Series Basketball Championship. The tournament will take place April 9-11 at Vanderbilt University.
The only issue is the team is looking for some money from the university to cover lodging and transportation expenses. Team captain Nick Blue feels that if they are able to go this will be a great opportunity to give Ferris some publicity outside of Michigan.
"This is a great opportunity to represent the university and show that students can still be active in sports without playing on the varsity team," said Blue. n