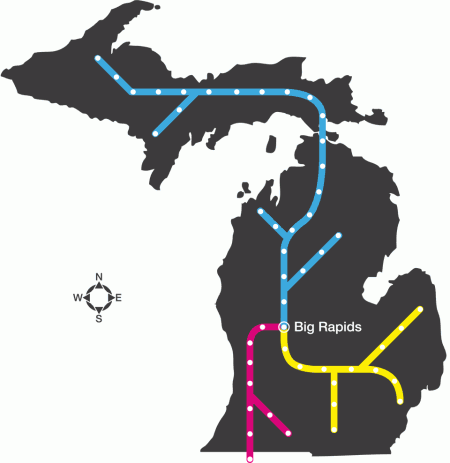 Students expecting to get a college experience similar to more major Michigan universities are finding it difficult to remain within the city limits.
Each weekend students are commuting to cities such as Grand Rapids and Lansing, leaving Big Rapids virtually empty of students. As this trend continues, more and more community members are beginning to view the university as simply a commuter campus.
Students such as health information management major Michael Vang says Ferris' surrounding community does not offer students enough activities to remain on campus.
"Big Rapids doesn't give students a modern college setting," says Vang. "If students want to enjoy themselves, they have to drive as far as Grand Rapids."
He says though Big Rapids offers students restaurants and eateries, the community's lack of a shopping mall causes students to abandon campus for larger city options.
Vang recently made the decision to commute to campus next year due to both personal interests and the financial costs included with living on campus.
With yearly on-campus housing rates at approximately $8,940 (depending on meal plan selection), radiography junior Nicole Dix says the cost of living off campus is often a more affordable choice for students.
"There are a lot of students who live near campus that would rather just commute. It's much cheaper than living in the dorms," said Dix.
Currently, 6,088 students live in off-campus housing, while 3,353 students live in the residence halls, according to Marc Sheehan, Ferris' communications officer.
Computer information systems major Krystina Woelkers says that the college environment Ferris students are given does not equal the high cost of the university's tuition.
"It is way too expensive for the lifestyle we are given," said Woelkers. "For how much we pay for dorms each semester, we should be given a better college experience."
Students and faculty agree both tuition cost and the need to facilitate a more modern college environment is urgent to maintaining the university's student life here in Big Rapids.
Dr. Donald Roy, political science professor at Ferris, agrees that tuition cost plays a major role in the university's reputation for being a commuter campus. Roy also says limited job opportunities in the community have forced students to find work outside of the city.
"It is hard to blame students when many go home to find work because of the outrageous tuition and room and board cost and very few jobs in Big Rapids," said Roy.
He also says the university's lack of being interrelated with the surrounding city signifies the separation between administration and the community.
"Community means some strong place of positive identity. You feel ties that bind. I do not see this at Ferris," said Roy.
Associate Professor for the Computer Information Systems program Amy Buse, however, said both the university and community offer students a sense of engagement.
"If you look at the campus, we constantly provide speakers and events for the students," said Buse. "It depends on what you are looking for."
With incoming students hoping to save money and experience a modern college community, Roy says Ferris has to give students more than just a college degree. Roy warns the university's reputation for being a commuter campus will ultimately have a negative effect on future enrollment at Ferris State University.
"Ferris is in deep trouble because excessive costs and declining demographics mean fewer students on the horizon," said Roy. n