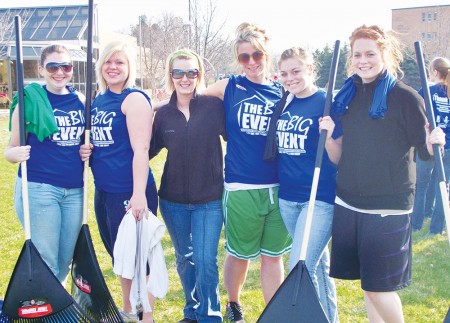 The BIG Event is right around the corner and is expected to be bigger than in previous years.
The largest student volunteer project at Ferris is set for Saturday, April 17 beginning at 9 a.m. in the Ferris quad and lasting until 2 p.m.
Students participating in the BIG Event will conduct community service by cleaning up yards and homes in the Big Rapids community. Participants will take on jobs such as raking, trimming hedges, washing windows, weeding, cleaning, sweeping and painting.
Students still have time to sign up if they are interested. Applications are due this Friday, April 9, by 5 p.m. Applications can still be picked up in the Student Government office in Rankin 121. Students may sign up with friends, an organization or as an individual.
The individual or main contact from each group must attend the final mandatory informational meeting on Thursday, April 8 at 11 a.m. in Rankin room 125-127.
Claire Gould, Student Government President and founder of the BIG Event, said, "We're looking to get over 1,000 students this year."
Gould said she received about 200 volunteer applications as of last Monday.
Last year, there were 101 houses signed up for the event and 750 volunteers. This year, there are 222 houses signed up, said Gould. Gould encourages students to participate.
She said all houses are different and the BIG Event committee has been busy evaluating the houses for the past two weeks.
"One thing we really want to push is getting students involved," said Gould. "It's such a tremendous help."
When participants arrive the day of the event, they must bring their Ferris I.D. card to check in. Everyone in the group must be present.
Gould said BIG Event participants will be offered breakfast, lunch and a free t-shirt. She also said residents are very happy that the BIG Event is taking place and are excited to have students helping at their home.
"They're just very grateful," said Gould. n