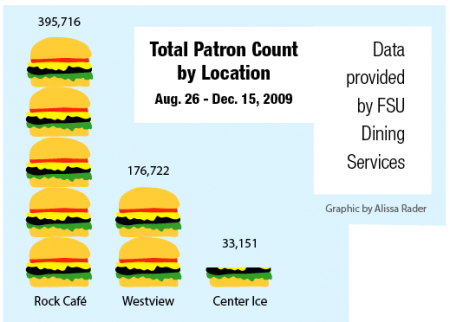 Ferris State University's Center Ice food court will not be reopening for the 2010-11 academic school year.
Located on Bond Circle Drive on the campus' west side, Center Ice will become the second dining hall to close since the renovation of The Rock Café, along with Mascar Grille.
Director of Dining Services Lori Helmer said many factors were taken into account when deciding to close the two dining halls. Helmer said both the choice to expand Westview's dining hours and the consolidation of the campus' dining staff were two major reasons for the decision.
According to a survey of Ferris' dining halls, 60.77 percent of total dining patrons from Jan. 6 to March 30 chose to dine at the Rock Café. Only 6.61 percent of patrons chose to dine at Center Ice with 32.62 percent preferring Westview.
"The students from west campus are letting us know through foot traffic that they prefer to dine at The Rock Café," said Helmer.
The initiative will also save the university an annual cost of approximately $450,000 in labor. An estimated annual cost of $85,000 will also be saved in kitchen equipment, utilities, custodial supplies and laundry services.
Journalism and technical communications freshman Kayla Konway currently lives in Cramer and said she enjoyed being able to eat at Center Ice. Konway said she feels Ferris should have considered other options when deciding on ways to reduce costs.
"Ferris can take other measures to save money," said Konway.
To minimize student dissatisfaction with the decision, members of the Dining Services Management Team met with west campus students during fall hall contracting.
"We wanted to inform them of the change for the 2010-11 academic year prior to making their commitment to live on west campus," said Helmer. "There were no students who changed their minds about contracting to live on west campus as a result of the decision to take Center Ice off-line for the 2010-11 academic year."
Marketing senior Manpreet Singh said though Center Ice provides west campus students with convenience, the Rock Café is a better dining option.
"The Rock provides better food and a better atmosphere compared to Center Ice," says Singh.
Closing Center Ice will reportedly eliminate seven full-time job positions. However, Dining Services said student employees returning for the 2010-11 school year will be given other employment options.
Center Ice's building will continue to remain intact for future use incase consumer demands change. n