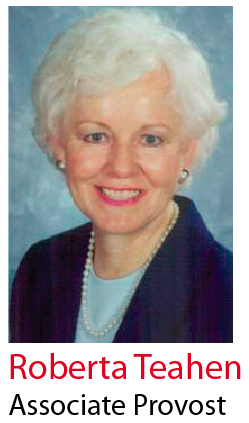 Carol Rathbun is concerned that she will not get into the classes she needs in order to advance in her program.
Rathbun, a non-traditional freshman in health care systems administrations, said she was not able to register for online summer classes she needs in order to take certain classes in the fall.
"The classes that I require are offered only online with preferences to off-campus students," said Rathbun.
Off-campus students in this case mean students attending Ferris at Grand Rapids, Flint, Lansing and other various locations throughout Michigan.
Rathbun added, "Those students are the ones to get first preference to online classes, even though they're not offered here [on Ferris' main campus]."
Associate Provost Roberta Teahen provided comment on why the enrollment process may cause frustration for some students.
Students who are enrolled at distant campus locations, such as Alpena, do have first priority for enrollment historically.
Teahen said once the off-campus students are enrolled, then the on-campus students can enroll or they have to register for different classes if these aren't available.
"It is not the smoothest process we have," said Teahen.
Rathbun said she would not know if she would be able to take the classes she needs over the summer before the end of April. She is also frustrated with the fact that Ferris does not offer the classes on-campus.
"One of my biggest concerns is that CCHS 101 (Orientation-Healthcare) is not even offered in the summer and I need that one before I can take another one in the fall, and that is completely booked," said Rathbun.
Teahen said she is aware of the problem and that the demand for online courses is higher than ever.
Chuck Rathbun, an employee at TAC [Technical Assistance Center], said this is difficult because it relates to the concept of a student spending a lot of money to be in the program and not being able to take the classes.
"All four sections of the classes are online, and we were told that people who are not in Big Rapids can get the class," said Chuck Rathbun.
"This is not a new thing," said Teahen of the frustration some students experience when registering for online classes.
Teahen said what they are trying to do is work with the registration area to develop a program that enables a student trying to get into a full class to be put on a wait list.
"We're doing this manually because the system doesn't presently enable us to keep those lists," said Teahen. "There are a lot of people who want to take online classes because it is more convenient."
Teahen also said, "We try to make it possible for students off campus to be served fairly."
Since the demand for online classes is growing so rapidly, Ferris is struggling to keep up with the increase in usage. Currently, in the Spring 2010 semester, there are 10,923 students enrolled in an online course.
However, the process for Rathbun is also a struggle. She said the nursing program is in high demand.
"The frustration was, why even come here if I can't get the classes on campus?" said Rathbun.
In accordance with what Teahen said, Ellen Haneline, dean of the College of Allied Health, emailed Rathbun and told her that her situation was "typical."
"Still, if I don't know anything by the end of the semester, it's hard for me to register for any other classes," said Rathbun.
Teahen said the university is preparing faculty to be able to teach fully online courses and blended courses so students can get the flexibility of online and offline courses.
"My intention was to be full-time during the summer, and it would be kind of a waste of money to take full-time classes and not get the degree I want," said Rathbun. n