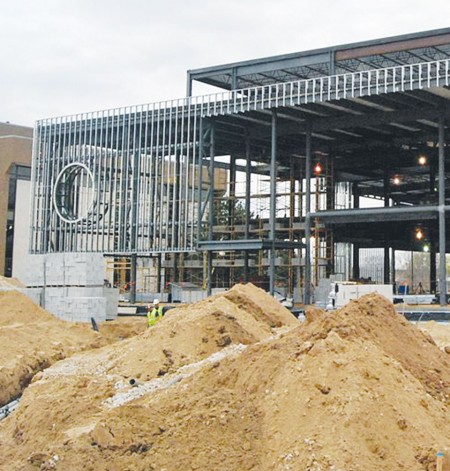 The new Optometry Building is currently right on schedule and will be finished within less than a year.
The new Michigan College of Optometry (MCO) Building, known as The Center for Collaborative Healthcare Education, is going to be completely finished on Jan. 3, 2011, according to Tim Ward, project manager for Clark Construction Company.
Clark Construction Company has been working on the building since May 2009.
"The project is on schedule, due some very cooperative weather this winter," said Ward.
Ward said excavation of the building is finished. The foundations are completed and the slabs on decks have been poured on the south half of the second and third floor.
"It's been going very well," said Michael Hughes, associate vice president of the physical plant. "We're starting to enclose the building and put the metal studs around; that's going to be some noticeable progress you'll see in the next week or so."
Hughes said they added a second work shift to the project beginning at 3 to 4 a.m. so the trucks can get through without being delayed by university traffic. He also said on Monday, April 12 they began working two shifts from 7 to 3:30 p.m. and 3:30 to 12 a.m.
In the Allied Health parking lot on west campus, the Clark Construction team is currently conducting an on-going excavation.
"The structural steel is now complete, metal stud partitions are being constructed and the roof is going on," said Hughes.
Hughes said the mechanical, electrical and plumbing systems are getting installed, as well as the new dental clinic parking lot (Lot 41) on the south side of the Allied Health Building. The parking lot is scheduled to open on May 17.
In terms of budget, Hughes said they are still on schedule.
Hughes cautions the Ferris community to stay safe and conscious around the construction area due to truck traffic and heavy equipment.
"We don't want anyone to walk so close they'll end up getting hurt," said Hughes.
MCO will offer vision screenings to the community and students. It will also include an Eye Care/Vision Clinic that will offer clinical optometry to students, interns and residents.
In addition, it will be the first academic building in university history to be Leadership in Energy and Environmental Design (LEED) certified. n