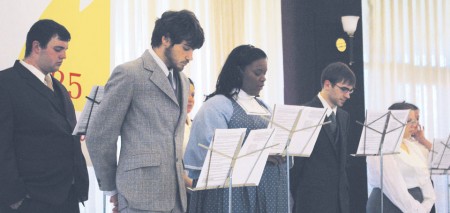 Ferris' 125th Celebration brought faculty, students and community members together to celebrate the legacy of Ferris and Big Rapids.
The week-long celebration included performances from Ferris' West Central Chamber Orchestra and Symphony Band, a theatre production of "Vignettes into the Life of Woodbridge N. Ferris," and a community briefing hosted by President Eisler.
The celebration concluded April 24 with a performance in Williams Auditorium by the FSU Concert Choir and Jazz Band with returning alumni from the last 10 years from both organizations also participating.
While celebrating Ferris' history in the Big Rapids area, the 125th Celebration also focused on the present and future role of the university in the community.
Associate Director of Advancement Services and 125th committee member Mary Kay MacIver said the response this year's celebration has received has been phenomenal. She said she thinks Ferris' 125th Celebration will show the Big Rapids community how Ferris has provided students educational opportunities throughout the years.
"We expect that the 125th Celebration has helped to raise awareness about Ferris and how we change the lives of our students through education and providing opportunities for them to grow as leaders," said MacIver.
A native of Big Rapids, MacIver also said she also hopes the events have shown Big Rapids community members how both Ferris State's campus and surrounding areas are intertwined. MacIver said she feels the celebration has given pride and confidence to Big Rapids as a whole.
"I feel the 125th Anniversary of Ferris has given our students, faculty, staff, alumni and community members a reason to celebrate, a reason to be very proud and to have confidence in the future of the institution and the community it's in," said MacIver.
Ferris State sophomore Corey VanBuren said Ferris' 125th celebration is a major accomplishment. He said Ferris' celebration was a way of acknowledging the influence the university has had on the history of Big Rapids.
"125 years is a milestone," said VanBuren. "Ferris is celebrating a legacy of being a part of Big Rapids." n