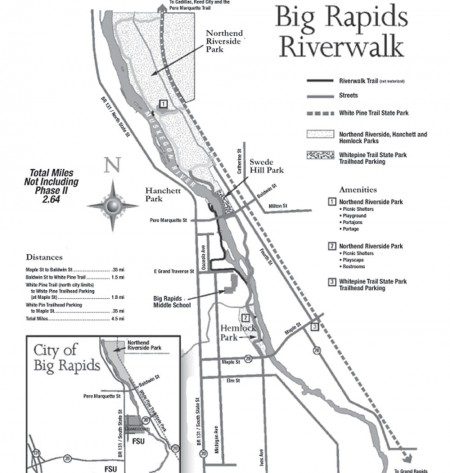 Located in the center of Big Rapids, the Big Rapids Riverwalk is a historic part of the community.
Traveling along the Muskegon River, Big Rapids' Riverwalk starts in downtown Big Rapids and continues through Northend Riverside Park. The Riverwalk's 2.6 mile stretch was funded partially by citizens of the area, the Michigan Department of Natural Resources Trust Fund and the city of Big Rapids. The community-led project, which raised over $1 million, includes an aggregated fishing terrace allowing community members access to the river's edge. An award-winning attraction, fishing has become one of the Big Rapids Riverwalk's most enjoyable features. During the DNR fishing weekend, the "Catch-A-Fish, Grant-A-Wish" tournament gives community members of all ages a chance to participate and win prizes. The tournament does not require a fishing license and provides the first 50 registered participants with free fishing bait.
The Riverwalk connects numerous parks including Hemlock Park, Northend Riverside Park and the White Pine Trail State Park. This is part of Michigan's "Rails to Trails" system running from Comstock Park to Cadillac.
The boardwalk of the Riverwalk is constructed of pressure-treated timber and railings composed of a recycled composite.
Big Rapids' local garden club also constructed a "Rain Garden" located near the picnic shelter/gazebo off of Osceola.
The Riverwalk offers numerous outdoor attractions including canoeing, tubing and picnicking. Having a picnic along the Big Rapids Riverwalk gives community members the opportunity to relax and enjoy the wildlife that is offered.
Biking is also a fun and healthy way to enjoy the attractions of the Riverwalk. The 250-foot wooden bridge provides access to numerous biking paths throughout Big Rapids.
Additional features include the "Access to All" commemorative area, the braille signs throughout the Riverwalk and the Maple Street Mural located underneath the Maple Street Bridge.
The Big Rapids Riverwalk is an experience for the entire community to enjoy. For more information on the Big Rapids Riverwalk, visit the official website at walkbigrapids.org.