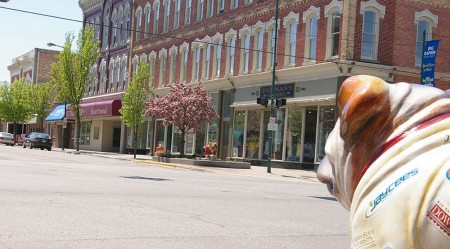 When I first arrived to college, I was eager to get out and explore the campus and meet new people. After you get settled into your room and get acquainted with your roommate, if you have one, get out of your room for awhile and go check out the Ferris campus and meet other students. Remember, you're in college and it's a whole new experience.
Get to know other people in your residence halls and attend events that are put on in your hall. It will give you a chance to make new friends.
Additionally, there are various events that go on throughout campus during the semester such as speakers, comedians, concerts, and other fun events. These are almost always free and worth attending. It gives you a chance to learn about various issues and topics or to just have a good time.
You can also go tubing on the Muskegon River, which I have yet to do.
I attended my first Ferris concert in the fall of my freshman year and had a blast. It was a nice break from all of the hustle and bustle of academics. Also, I had attended some very informative, inspiring and interesting speakers that opened up my mind to new perspectives and ideas.
Although there is a Wal-Mart and a Meijer, I suggest you take a walk through downtown Big Rapids. There are a variety of places to check out, including the Old Pioneer Store and Emporium/Kilwin's (which has excellent fudge), a movie theater, and several great restaurants to dine at.
Also, get involved. There are plenty of organizations on campus and surely one of them has something to offer that suits your interests and hobbies. Aside from classes, homework, and studying, being involved in an organization on campus is beneficial for your résumé and your social life.
I found that I enjoy being a part of an organization because I got to do what I love most and I made great friends. I have also found that I have grown and matured.
So, don't just sit in your room, study all of the time (well, be sure to study two hours for every hour you are in class), and watch TV constantly. Get outside, get involved, and make new friends. College is supposed to be the best time of your life, so start early and make it memorable.