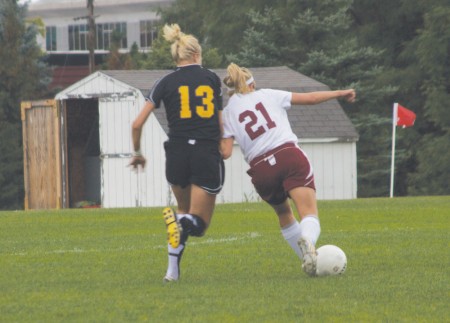 Over the long weekend when most made an escape for some relaxation, Ferris' women's soccer team pushed themselves to the limit.
The Bulldogs capped off the weekend action with a contest against Winona State University (Minn.) on Sunday. Ferris managed to get more shots on goal with a 12-6 advantage over Winona but that wasn't enough to get a win. Ferris now has a record of 0-2-0. Sophomore midfielder Hillary Procunier says the team had a ton of shots on goal but they just did not go in the back of the net.
"We did a very good job of creating scoring opportunities," said coach Matt Kellogg. "The next step is capitalizing on those chances."
Minnesota State University also out played the Bulldogs, gaining a 1-0 advantage over Ferris in the first half and keeping that lead to nab a win. Ferris had the advantage in shots on goal with six over Minnesota State's five, but ultimately could not capitalize. Ferris had a chance to tie the game with a shot by Kasey Ruimveld that narrowly missed the Minnesota State goal and instead hit the goal post. The Mavericks held an edge with 11 shots registered in the first half to Ferris State's three.
Despite dropping the first two matches of the season, the team still has its hopes set on making the GLIAC tournament this year after missing the tournament last year.
"I think that we have improved because we want to get into the tournament this year and with the talent that we have I think that we can make it in to the top four," said Procunier.
"I expect that we will be playing in the GLIAC conference tournament at the end of the year," said Kellogg.
Ferris State returns nine starters and 13 letter winners from last season, which includes six of seven of the teams' points leaders and 82 percent of the team's scoring. The Bulldogs are picked to place fifth in the North Division of the GLIAC in the preseason coaches poll for the second season in a row.
In order to pull off an upset, Kellogg says the team needs to play composed and disciplined soccer when they face off against five-time defending GLIAC Champion Grand Valley State on Wednesday at 4 p.m. at the FSU soccer field. n