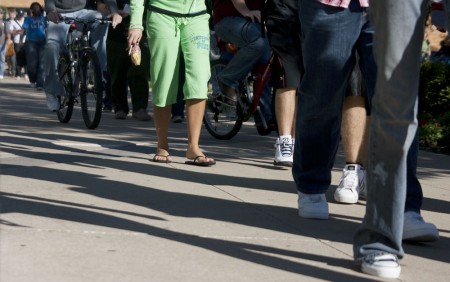 Fall 2010 enrollment numbers indicate that more students than ever are attending Ferris, officials have reported.
Although the economy is still struggling and tuition has increased by 4 percent, an increase in financial aid, among a combination of other resources, is a factor of the increase.
"I think what we've done in financial aid is provide additional sources," said Rob Wirt, director of financial aid. "I think Ferris State University is still a very good value as far as education goes as you pay for it."
According to a university news release, there are currently 14,381 students enrolled system wide, with 516 more students attending classes in fall 2010 over 2009. This indicates a total of a 3.6 percent increase.
On the main Big Rapids campus, enrollment has increased by 66 students, with 9,931 more students enrolled.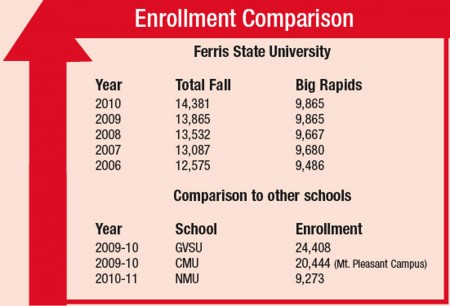 Dean of Enrollment Services Kristen Salomonson said two factors that keep Ferris attracting students are Ferris has increased the amount of financial aid they've been giving to students. In addition, she said, "We work hard to make sure students can afford to come to Ferris. It's important to recognize the value of a college degree."
"Last year, we gave away $8,000 in financial aid. This year we were very proactive in making sure students got the best financial aid packages," said Salomonson.
Salomonson also said, "We work hard to make sure students can afford to come to Ferris,"
"We've just put up half a million dollars in financial aid to students who have need-based aid based on the FAFSA," said Wirt. He said they've also provided Ferris institutional funds for needy students in the past.
Wirt said Ferris has added additional academic scholarships and started the FOFYI (Ferris Orphan and Foster Youth Initiative) for orphan students or those aging out of foster care. He said those are new for this year.
"Financial aid staff have been working tirelessly to ensure these applications are processed accurately and efficiently," Wirt said.
For students, Ferris has also provided them with chances to learn new skills and take on new opportunities.
Jessica Slattery, a junior in sales, said, "Ferris has given me the opportunity for hands-on learning outside of the classroom through RSOs and being an RA.
These opportunities have taught me leadership and time management skills and when I go looking for a job I know they will help me."
Wirt said it's not too late for students to apply for financial aid if they have not done so already. If they need additional aid, they can still apply for grants and loans to assist them with their education.
"We're poised to have a really good year in fall 2011. We have done a number of things that I think will help attract new students," said Salomonson. She said freshmen and transfer numbers were very solid this semester.
Salomonson said Ferris is trying to expand its market to other areas including throughout Michigan and other states, as well as globally.
"It's really been a good thing that people are recognizing that Ferris is a great place to come to school. We give people great variety to choose from and we're going to increase in the next couple of years," said Salomonson.
With tuition increasing, Ferris has tried to hold the line with increasing financial aid as well, said Salomonson. A lot of the fees that students paid were kept low and there was a good availability of campus jobs for students who have work study and for those who do not.
"What's been most gratifying is that we attracted a lot of students this year and I hope we do the same next year," said Salomonson. n