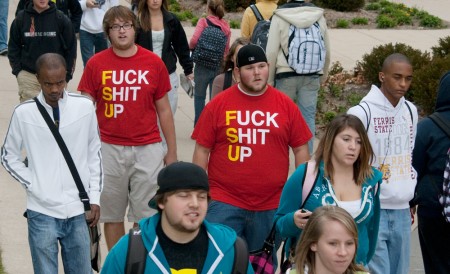 The two Ferris students who gave new meaning to the initials "FSU" have recently been persuaded by the university to stop printing the controversial T-shirts.
Randall Cowell and Justin Gauthier, sophomores in the graphic design program, had been printing T-shirts with the slogan "Fuck Shit Up" in large block letters in Ferris State colors.
On Oct. 14, both students met with Communications Officer Marc Sheehan in President Eisler's office and agreed to stop printing the T-shirts.
According to Sheehan, the slogan was an inappropriate use of school colors and a poor reflection on the university.
"It was the colors combined with the use of the initials that, in my opinion, was using the university's official trademark in ways that the university did not approve of," said Sheehan.
Gauthier said Sheehan made it clear he was not trying to make them stop printing the shirts, but that the university would be forced to take legal action by filing a cease-and-desist order.
Cowell and Gauthier sold 370 shirts in total and said they were not trying to offend anyone.
"We don't wear our shirts to class or do anything to try and push the line," said Gauthier. "They were meant to be fun shirts."
The idea was spread through a Facebook event page, which has gathered more than 1,000 members since Oct. 4. The students' business was conducted off-campus due to policies that prohibit students from conducting a business on property owned by the university.
"We had just over 100 shirts yesterday night and we sold out within a half an hour," Gauthier said.
Cowell said he thought the idea's popularity was due to a lack of variety in Ferris State branded shirts.
"It was something different," said Cowell. "Students wanted to wear something that's a little more edgy and expressed them more as a person." n