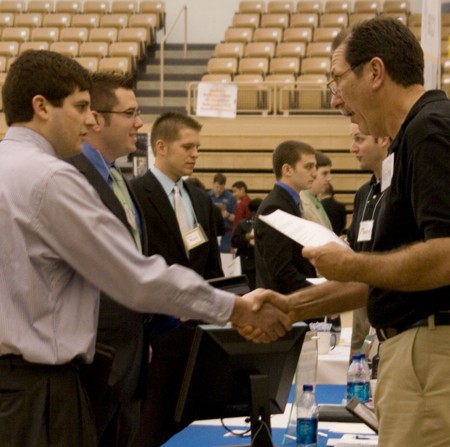 A various number of employers will be present at the 2010 Fall Job Fair and all students are encouraged to attend.
The Fall 2010 Job Fair is set to take place on Thursday, Oct. 28, 11 a.m.-3 p.m. at Ewigleben Sports Complex. The companies present are seeking engineering, management, sales, business, nursing, and many other services. A full list of companies can be found on Bulldog Career Link.
Students must also RSVP on Bulldog Career Link for the job fair and bring their FSU student I.D. as well.
Angie Roman, Coordinator of Career Services, said there will be 112 employers coming to the job fair, which is an increase from last fall's job fair, which had 67 employers.
"Fall is typically the largest one (job fair)," said Roman.
The number of students Roman hopes will attend the job fair is 1,000. Roman said, "That's my goal." She also said, "Getting in front of any employer is a big thing."
Clayton Lee, a senior in accounting, said the upcoming job fair will be the third one he attends. Lee has found attending the job fair has its benefits.
"My first one helped me realize my confidence level," said Lee. He also said it helped him realize what skills he needed to develop in order to fulfill his potential.
Lee said at his second job fair, he was more comfortable and confident in his ability to speak with employers.
"It's been amazing, pitching my 30-second spiel I've given to employers," said Lee.
Roman said although the job fair is targeted at juniors and seniors who are looking for internships, freshmen and sophomores are encouraged to attend the job fair to explore what skills are needed in their chosen career field.
Students are encouraged to bring a number of resumes to give to employers and to dress professionally as they may be interviewed by a company.
Joel Gardner, a senior in political science, said he is excited for the job fair.
"I think it will be a good chance to brush up my networking skills and get some resumes out there."
Gardner said he is mainly looking for some sort of non-profit or government agency.
"There are a couple different employers coming that interest me; one of the most extreme options I want to check into is this possibility of teaching ESL (English as a Second Language) in China," said Gardner.
Like Lee, Gardner believes the job fair will "definitely be beneficial." He added, "It will give me a chance to practice my networking, resume writing and (hopefully) my interviewing skills."
Kyle Bieth, a junior in nuclear medicine, is not as optimistic as Gardner and Lee, said the job fair sounds like an event he should go to.
"I imagine there will be some healthcare workers there that I could talk to that will have some connection to Nuclear Medicine," said Bieth.
Bieth also believes the job fair will benefit him so he can get input on his resume "as well as just tips to survive in the workplace."
"I mostly want to come away with increased experience in securing a job/internship. An offer for a full-time job after graduation in May would be great as well, but if not, this is an excellent opportunity to practice for post-college life," said Gardner.
In order to stand out as a candidate, Lee said, "Practice selling yourself." He added, "If you can differentiate yourself from others and show why you're the best candidate to fit into an organization, it will definitely get you somewhere – these are things I'm still learning to this day." n