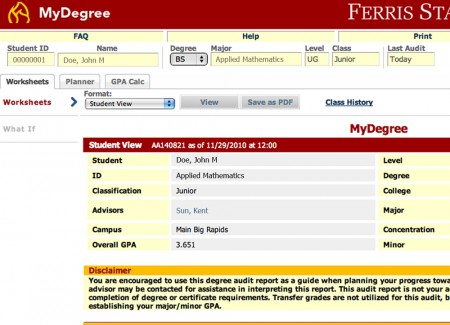 MyDegree is a new tool students can use to choose their classes and plan out their semesters in advance.
The software application is an electronic check sheet that aids a student in keeping track of how many credits they have earned and what courses they will need to meet the requirements for their particular degree(s).
Barb Hampel of the College of Arts and Sciences said Ferris chose to add MyDegree to their system as an add-on. She said Ferris had looked at different products similar to the software and found that MyDegree was the most compatible with the system. Hampel said MyDegree has had a high number of hits on the system so far.
"We are finding problems and little glitches and things that need to be fixed," said Hampel. "I think we'll have that for some time until things settle, and programmers or scribers figure out how they can make the system work."
Ferris students are pleased with the software as many have said MyDegree has been efficient with helping them create their class schedules and plan for future semesters.
Communications major and sophomore Sadie Wise said, "It's really helped me. My adviser and I got together and set out a plan for what classes to take each semester."
Chase Haberman, a sophomore in pre-pharmacy, is also pleased with the software.
"I have my next three semesters planned out," said Haberman.
Hampel said there is a planner feature that students can use to plan their whole four years if they wanted. However, certain courses might not be offered in the semester a student may have planned for. She said what will help is if the advisers can run reports for departments to see how many students need a certain course for a semester and plan to offer that course if a significant number of students request it.
Since MyDegree was built on the Fall 2010 check sheets, classes that current juniors and sophomores took in previous semesters may not show up on the 2010 check sheets.
"It's not going to keep up with the older (classes), they decided to start (new classes) and didn't back-load older check sheets," said Hampel. She added, "Over time in four years, it will be good for everyone basically."
According to Hampel, students new to Ferris, freshmen and transfer students' check sheets should be up to date with their requirements.
Another feature for MyDegree is working on for the future is a tool that will help a student who is shopping around for a college and looking to come to Ferris. Hampel said a potential student would be able to plug their courses in and it would be like a transfer guide.
"That's not here yet, it's something they're hoping will work for a recruitment tool," said Hampel.
Hampel added, "It's a work in progress, there's a disclaimer on there, it's going to be nice when we get it going and get it really locked in for every degree." n