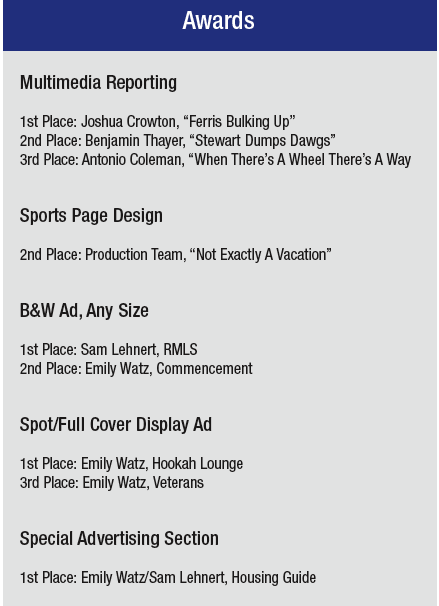 The Ferris State Torch received a total of nine awards for the 2010 Michigan Collegiate Press Association College Editorial Contest.
The Torch was entered in the Division II portion for each represented category.
Antonio Coleman, Joshua Crowton and Benjamin Thayer received awards for their work in multimedia reporting.
Ad layout assistant/advertising representative Sam Lehnert and ad layout manager Emily Watz also received recognition for their work in advertisement for the Torch. Lehnert took first place and Watz took second place for the category "B&W (black and white) Ad, Any Size."
"It was good to get some recognition for the hard work we've been putting in," said Lehnert.
Watz said, "It was pretty cool for both of us to see we made a quality ad; it was a good feeling."
Both Lehnert and Watz are proud the work they put into the ads last year was recognized by the MCPA. n