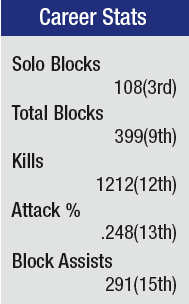 It's not everyday an athlete gets to go out on top when finishing a career, but that's exactly how senior Arielle Goodson has ended her collegiate volleyball career at Ferris.
Goodson, who began her Bulldog career in 2007, has been named as a second team selection for the American Volleyball Coaches Association (AVCA) All-American Team following her senior season. Goodson is the first Bulldog since 2007 to earn such honors, as Lindsay Tie was the last recipient for the Bulldogs with a Second-Team All-American selection.
"It's a huge accomplishment to end my career this way," said Goodson. "It's nice to see the progression and the improvement over the years and how much my team has helped me succeed. It's a nice way to end a great career."
The award is only icing on the cake for Goodson, as she has racked up award after award this offseason. Goodson was named an All-GLIAC First-Team Selection for the second straight year, an AVCA All-Midwest Region First-Team Selection for the second consecutive year and was also named to the Daktronics All-Midwest Region team.
"She's not only been a great player, but a great teammate and a great person," said Ferris head volleyball coach Tia Brandel-Wilhelm. "She brought some athleticism to our team and she really had an incredible work ethic that our team really looked to."
Brandel-Wilhelm also said she hopes future athletes in the program will look to Goodson and her legacy as inspiration to play the best they can.
In her senior season, Goodson registered a career-best 428 kills along with a career-high .296 hitting percentage. Goodson also posted a career high in service aces with 30. An average of 4.91 points per set also put Goodson at ninth in NCAA Division II in the category.
The Bulldogs as a whole ended the campaign at 18-10 overall, marking the 13th-straight winning season for the Bulldogs. Ferris made it to the semifinal round of the GLIAC Tournament this season before losing to Hillsdale, 3-1.
"I attribute these accomplishments to my teammates. Without their help, support, dedication and hard work, I wouldn't be the player I am," said Goodson. "They have pushed me over the years in so many ways and because of their continuous support we have all been successful. These accomplishments are a team effort." n