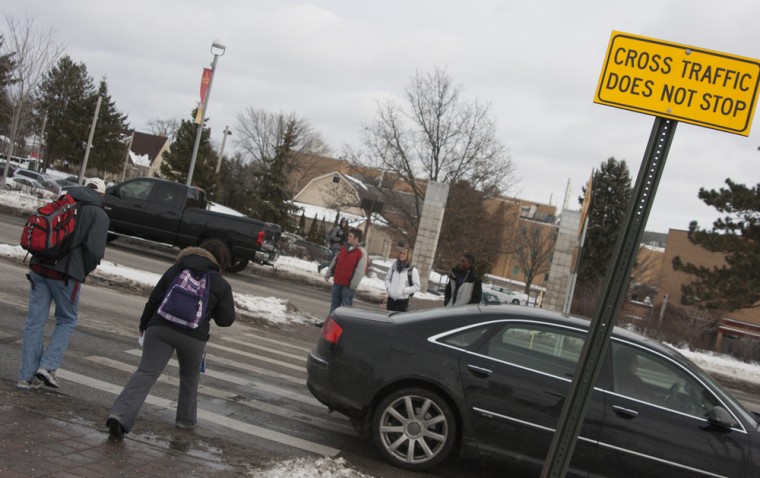 Ferris Department of Public Safety and the Physical Plant will be making some changes to area crosswalks to improve pedestrian safety.
Marty Bledsoe, chief of Ferris DPS, said at Pedestrian Safety Taskforce meetings last year along with Student Government, ideas to make changes to crosswalks at several locations were discussed.
"There were several things that we did to include at places along State Street with M-DOT, physical plant, DPS, Student Government – we came to the conclusions in a study to determine if there was anything to be improved," said Bledsoe.
Students have expressed concern about some of the crosswalks, as the traffic and length of time waiting to cross the street can be problematic.
"It's insane," said Caitlin Higgins, junior in public accounting. She also said when she has enough time to cross, sometimes drivers speed up.
"It's not nice. At all," she said.
DPS learned of students' concerns at public hearings held last year during Taskforce meetings. Student Government also arranged staffing to help DPS officials check the pedestrian flow back and forth.
They shared information with M-DOT in their official study to come up with their approval of making changes to the crosswalks.
Bledsoe said the crosswalk at Burger King and State Street will be eliminated completely as a pedestrian crosswalk.
Meghan Smith, a sophomore in health care systems administration, said the crosswalk near Burger King is a "death trap."
"If you have a few people standing there as well as a bike or two, people are really overexposed to the traffic going in any direction," Bledsoe said. "You get the sense you are actually in the lane of traffic."
Smith also feels nobody should take that crosswalk due to the possible dangers, such as how close the traffic is to the crosswalk.
The ultimate decision to omit that crosswalk was because of the narrow median and "the situation with Burger King being as it was," said Bledsoe.
Drivers also experience frustration near the area. Justin Wensel said it depends on the time of day.
Wensel, junior in hotel and restaurant management, said, "Morning rush hour and after 5 p.m., you can never turn left on State."
Jennella Ryske, a sophomore in social work, said, "During the day, I have only crossed it once and it took me ten minutes. But at night, it's not bad at all."
The crosswalk near Morrison Street will also be revamped and the crosswalk once near Burger King will be moved a few hundred feet to the south.
The Taskforce also looked at improvements near places such as in front of Biggby Coffee.
Also, the median at the crosswalk being moved to the south will be cut into where it's wider in front of the parking lot leading into Williams Auditorium onto Ferris' campus.
As for the time of the project's completion, Bledsoe said he's not sure how long it will take.
"My sense is that it will get underway in the spring semester, and it should be fairly quick at the point," said Bledsoe.
He also said Ferris is interested in aesthetic lighting near the entranceways that would also include block pillars.
DPS will continue to work with M-DOT to make sure their plans are legal for the purposes of crossing. n