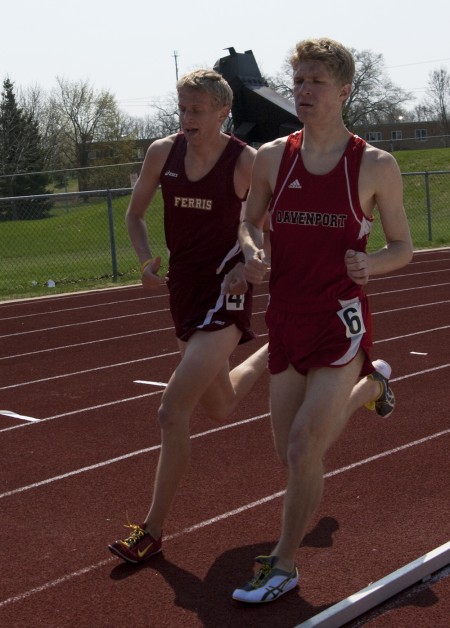 The Ferris State University men's and women's indoor track and field teams commenced second semester competition at the Bob Eubanks Open.
Head coach Steve Picucci was impressed by the strong performances of underclassman athletes, particularly freshman Jessica Pilling.
Pilling placed fifth in the weight throw (53-9.25) and reached a NCAA Division II National Provisional qualifying mark.
"We were expecting good things, but didn't expect to do quite so well so early in the season, which is nice to see," Picucci said. "With these early meets, you never know who is going to show up competition wise."
Grand Valley State University hosted the Jan. 14 meet inside the Laker Turf Building at Allendale.
The non-scoring competition included athletes from FSU, GVSU, Eastern Michigan, St. Joseph's (Ind.), Calvin, Valparaiso, Bethel (Ind.) and others.
FSU athletes were selected to participate based on practice performance, according to Picucci, who is in his second year as head coach for both the men's and women's track and field/cross country teams.
Other top finishers for the women were sophomores Anna Rudd and Alyssa Osika. Rudd placed fifth in the 3,000 meters (10:26.12) while Osika took sixth place in the mile run (5:13.27).
For the men's team, sophomore Ryan Chute placed fifth in the 3,000 meters (8:54.23) for the Bulldogs. Junior Justin Price finished seventh in the 400 meters (50.34).
"Justin Price had a tough fall with injuries," Picucci said. "To come back and run that fast is impressive."
Price admitted the season has been difficult and has not gone as he had planned.
"My coach told me that how hard I worked over Christmas break would determine how well I did during the indoor season," said Price. "I ran three hours a day, working as hard as I can to get back to the level I need to be."
Perhaps Price's dedication will inspire his teammates. Picucci said the team "needs to get more training under our belt."
"We're not at the fitness level we need to be at," said Picucci. "But we have plenty of time to get there."
The Bulldogs will take to the track Friday, Jan. 21, for the Mike Lints Laker Open. GVSU will again host the event. According to Picucci, many of the same FSU athletes will be competing as the team continues to prepare for the outdoor season.
"It's about little improvements when we can and hope for some big breakthroughs," Picucci said. n