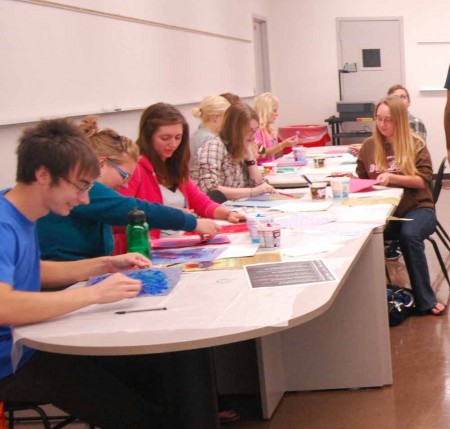 Since a large portion of college consists of class, homework and projects, getting involved with a registered student organization (RSO) adds fun and enjoyment.
I am currently involved in three RSOs, including the Ferris State Torch. Being involved on campus has certainly enriched my college experience up to this point. I have gained leadership skills and improved my communication skills.
There are many RSOs to choose from on Ferris' campus. I'm sure there is one that will meet your interests. If not, you can always start an RSO. Being in more than one RSO, I've met many great people and gained a lot of great friends.
For example, if you like to knit and crochet, there is Crafters Anonymous. If you like to snowboard, there is SHRED. If you're interested in fashion, there is the new RSO called the Student Fashion Alliance. These are just a few to choose from; there are many more.
I didn't start to become immensely involved in more than one RSO until my sophomore year of college. I decided I wanted to become more involved on campus in order to meet more people who are in my program – plus it looks good on a resume.
According to Ferris' Student Leadership & Activities webpage, RSOs play an important role in helping Ferris achieve the mission of innovative teaching and learning. RSOs also provide unique learning experiences outside the classroom and create opportunities for students' personal and professional development. I have found this to be true.
Being a part of several RSOs has provided several learning experiences for me. One of those learning experiences is time management. I will shamefully admit that I am the procrastinator of all procrastinators. I almost always wait until the last minute to complete an assignment that's due the very next day or even within an hour of the class it's due in. (I strongly do not recommend doing this.)
However, since I'm a member of several RSOs, I've come to learn that procrastination is not an option. An RSO is like another class or a small business. It's not acceptable to disregard one of your responsibilities – whether it's getting information for an event, taking notes during a meeting or coordinating an event. It's not much different than refusing to do a project for a class.
I've also met many people who have become some of my closest friends. That's one of the greatest benefits of an RSO – guaranteed long-lasting friendships.
Think about it: you get to surround yourself with people who share the same ideals, interests and/or values with you. Since there are over 200 RSOs, that means a lot of potential friends and networking opportunities.
After you graduate college and begin the great job hunt, there is a strong possibility that someone who was a member in the same organization as you will have a connection to a job.
It's also very helpful during your time in college. Chances are you will be in the same class or program with one or more individuals in your organization.
If you are struggling in a class, there will most likely be someone who can help you. If you are in the same program as someone in your RSO, they can give you input on the classes you will need, information about professors and the program itself.
In conclusion, join an RSO. You won't regret it.