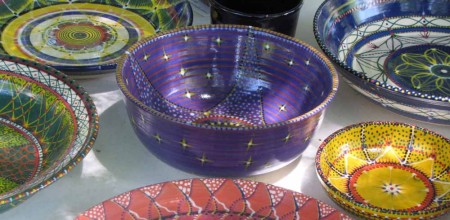 The Clay Art and Fire event, a pottery festival that will be in Big Rapids for its third year, will feature face jug artists.
This is a free event open to the public and will include live demonstrations from over 15 nationally known premiere potters.
The event will be held on Saturday, June 18 and Sunday, June 19. It will begin at 10 a.m. on both days and will continue until about 9 or 10 p.m. with demonstrations, glazing and firing of the pottery all day. The event will take place in Mitchell Creek Park, which is behind Dairy Queen.
Mary Waldron, chair for Clay Art and Fire 2011 and former Ferris professor in the pre-dental program, said, "They're all face jug artists, they not only throw their art on a potter's wheel, and they start with a jug and add unique features to it."
Waldron added, "They all look so different, they add their artistic flair to it, some look like crazy animals, some look like crazy people."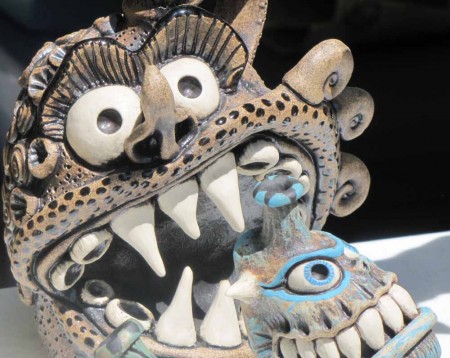 The event is put on by Artworks of Big Rapids and has been organized by Kelly Quinn for the past three years and will be helping put on the event this year as well.
The event was created three years ago by face jug artist Dan Norton of Pennsylvania two years ago. Norton has worked with Jack Batdorff, chairman of the Pioneer Group. Batdorff has also had a hand in bringing Clay Art and Fire to life.
Waldron said they are working to have Clay Art and Fire eventually become an Artworks event because it has grown.
Waldron said there will be live demonstrations of the artists creating their face jugs. Each artist will have their own tables where they will throw their clay on a wheel and bring their pieces back to their table to decorate them.
After the pieces are decorated, they will be fired and glazed. However, the face jugs will not be completed that weekend. They will need to be bisque fired in order to be completed. The pieces will be glazed and fired in a kiln – an oven specialized for baking pottery.
"The neat thing about this is they can be bisque-fired items," said Waldron.
Also, the items can be fired in a raku kiln. The difference between a regular kiln and a raku kiln is a raku kiln can heat the pottery in rapidly high temperatures as opposed to a regular kiln. Raku is a Japanese ceramic firing process that uses both fire and smoke to create unique patterns.
The public is also welcome to bring its own un-glazed and bisque-fired pottery to glaze and Raku free of charge.
Currently, there are several face jugs displayed in the Artworks window in downtown Big Rapids.
Waldron said there will also be music all day long. During the day, there will be fiddlers and during the evening there will be rock music on both days.
"You'll see a variety of music," said Waldron.
There will also be a many local food vendors on sight at the event to promote downtown Big Rapids.
Currently, 20 confirmed artists will be displaying their pieces at Clay Art and Fire 2011. Waldron said a half dozen more have just been invited.
"It's a big event and hopefully it's going to grow into something next year," said Waldron. For more information, visit clayartandfire.com. n