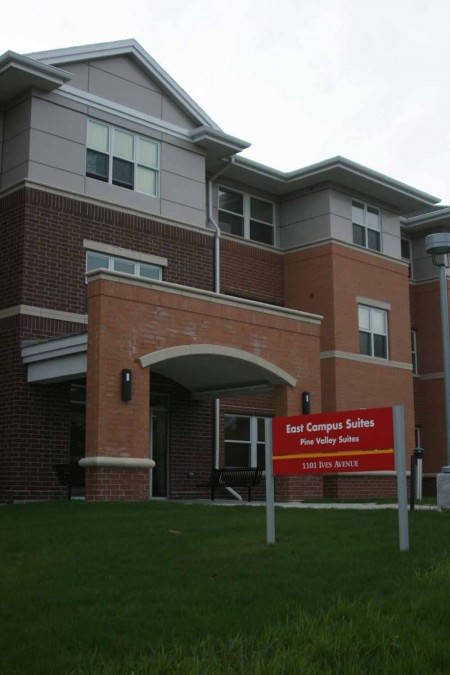 Ferris is going green with the East Campus Suites being LEED Gold Certified by the U.S. Green Building Council.
LEED, which stands for Leadership in Energy and Environmental Design, is the nation's preeminent program for the design, construction and operation of high-performance green buildings.
Michael Hughes, associate vice president of the Physical Plant, said this is the first time in Ferris' history a facility has been LEED certified.
"We had established a minimum goal of LEED Silver, but then we challenged our team to go beyond our minimum goal and to do better. We were able to do that with this project and we're very happy with the end result," Hughes told the University Advancement and Marketing.
The point range for LEED Silver is 33 to 38 points and for LEED Gold it is 39 to 51 points. East Campus Suites scored 39 to earn gold status, according to the USGBC.
Ferris achieved its LEED certification for energy use, lighting, water and material use in addition to incorporating a variety of sustainable strategies.
LEED certified buildings save money for families, businesses and taxpayers by using less energy and water, reducing green house gas emissions and contributing to a healthier environment for the community.
Rick Fedrizzi, CEO, president and founding chair of USGBC, said Ferris' LEED Gold Certification demonstrates tremendous green building leadership.
Hughes also said, "It was nice to know that our efforts toward achieving LEED Gold status were successful with the East Campus Suites project."
The East Campus Suites were constructed on green design and construction features. Construction for the suites began in 2009 and the suites opened in fall 2010.
"The urgency of USGBC's mission has challenged the industry to move faster and reach further than ever before, and Ferris serves as a prime example with just how much we can accomplish," Fedrizzi told University Advancement and Marketing. n