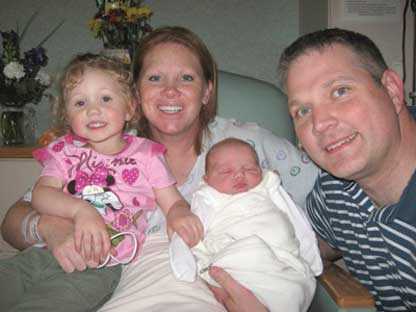 The NCAA Division II motto is "life in balance." This is a phrase Ferris women's basketball coach Tracy Dorow and Associate Athletic Director Jon Coles will come to appreciate a bit more.
Dorow recently had a second child on June 22 named Baxter Dorow. Named after his grandfather, Dorow said she is excited her first child Lainie has a sibling to play with.
"Every parent knows that a newborn takes up all of your time and you don't get a lot of sleep, but we're thrilled," said Dorow. "It's nice to have someone Lainie can grow up with and play with."
Dorow hopes Lainie and Baxter will develop the same passion for basketball as she has, but knows that it is best to encourage her children to choose what they want to do.
"I would love it if Lainie would decide she wants to play basketball since she sometimes talks about it, but we're just going to let our kids do what they want to do," said Dorow. "Right now she's signed up for dance lessons; I never thought I'd be saying that."
Dorow is happy to be back at her job after maternity leave but is reluctant to welcome the busier schedule. Dorow said she was frustrated at times during her leave because she knew there was much that needed to be done.
"I think the hardest thing is balancing my time for my family and with the team, because the team is also a part of my family," said Dorow. "It's hard to be home a little more often when in the past I would spend 13 hours at work."
Coles is also welcoming the birth of his second child, Reid Coles, born on August 4th.
"If I didn't have a wife who likes sports and accepted this lifestyle, I don't know how I would do it," said Coles. "I couldn't do it without a support system like that."
Coles' job at Ferris is to get people to a game and then make sure the fans have a good time at the game. He also organizes many events, handles marketing promotions and spends every weekend in Big Rapids, attending games with his family.
Life outside of his job is dedicated to his family said Coles. Coles often looks forward to his three-year old son, Carson, to greet him at the door after a long day at work.
"The best part of my day is my three year old running into my arms when I get home," said Coles.
Coles believes it is important, not only for athletes, but for anyone to have a balance of everything in life. Coles thinks it is important to have more than just work or athletics define a person.
"Life is too short to make work your identity," said Coles. "I think that's a problem a lot of young professionals have and I need to work at that myself."
Coles hopes his children develop a passion for sports because of the values sports can teach, but will always support his children no matter what they decide to do. n