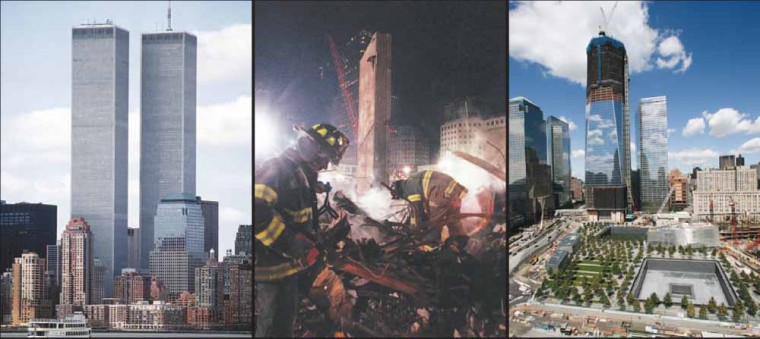 On Sept. 11, 2001, the lives of many were altered forever.
Now, ten years later, Ferris students look back on where they were on that tragic, historic day.
"I remember them telling us to go home," said Quillian Murphy, a sophomore in psychology. Murphy said he and his classmates were not exactly sure what was going on.
Murphy said the events of shocked him and he was told to stay inside for safety.
"You wouldn't think it would happen so close to home," said Murphy.
Carissa Sudol wasn't sure of what was going on either when she was sitting in her sixth grade language arts class.
Sudol, a senior in pre-dental, recalls her teacher telling the class, "This is history in the making."
Alex Cullen, a senior in communications, said she was in her sixth grade choir class on 9/11, and was "terrified" because her tutor's brother was supposed to fly the plane that crashed in Pennsylvania, but fortunately he called in sick that day.
"He was fine, but it freaked me out," said Cullen. Cullen went to New York City with her dad and sister to visit Ground Zero a few months after 9/11 happened.
For a tribute to those lost and affected by 9/11, The Gate will be putting on a show called "10 Year Tribute to the Fallen of 9/11" from 9:30 p.m. – 1:30 a.m.
The band Onager will be on stage and at midnight, there will be a video tribute to those who have suffered since 9/11.
Steven Schijanow, the president of the Ferris State University Veteran's Association, said the group will be teaming up with Ferris' ROTC with a barbecue event on Sept. 11 and joining in on the festivities. In addition, they will help out ROTC by sending care packages to those who have a loved one in the military, which is part of the Family Readiness Group.
Amber Powney, a junior in business administration, said her aunt was in one of the towers on Sept. 11, but she was able to get out unharmed.
International students were also affected by the events of 9/11 and recall where they were when they heard the news.
Angie Sarmiento, a sophomore in business administration and legal studies from Ecuador, said she remembers being in her physical education class and her teacher brought out a radio for the students to listen to the events of the tragedy unfold.
Sarmiento said her teacher told the class, "This is so important." She also remembers saying, "Wow, they just destroyed a whole building, it was all over the news."
Sarah Naqi, a junior in human resource management, said she was in sixth grade when it happened.
"It wasn't only America's tragedy, it was the whole world's tragedy," said Naqi. Naqi remembers she was in the living room with her parents while her father was switching through the channels and came across the "Live Breaking News" message covering the events of 9/11.
Naqi said her parents became worried about the people who were in the area.
"To be honest, I don't know a lot about 9/11. What I do know is that they were bad guys who dishonored my country and my religion by their devil thoughts that they pretend is God's word, which is not true," Naqi said.
After 9/11, individuals who were of Arabian descent or were Muslim have been discriminated against greatly and accused of being "terrorists."
Naqi's religion is Islam and she has experienced the discrimination that has arisen in the past ten years.
"Still, unfortunately, some Americans think that I am the devil in their country because of my religion and where I come from. It breaks my heart and I feel unwelcome, sometimes it reaches that far I cry for something I didn't do," said Naqi.
Naqi said Islam means peace, and what the terrorist group al-Qaeda did contradicts what Islam means.
"To me, I don't see that they are Muslims because they killed innocent people – Islam prohibits killing the innocent," said Naqi.
Naqi added, "Rest in peace for all who died there."