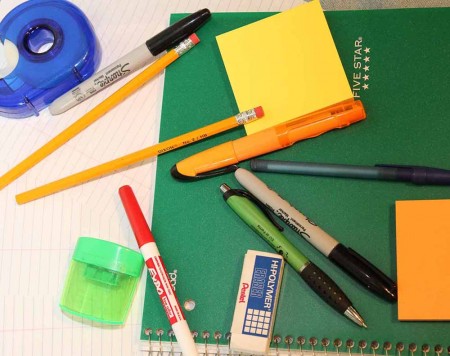 Lack of school supplies can be a problem for many schools, but a local elementary school in Big Rapids is getting some help.
Brookside Elementary School received much needed school supplies from the members of Delta Zeta Sorority.
The members of Delta Zeta donated the materials when one of their members heard the school was struggling to acquire the supplies they needed.
Delta Zeta planned to do this back in August. Each member donated at least $5 out of pocket for the cost of the materials. They then went to the store and bought the materials themselves.
Brookside Elementary received the supplies on Sept.13.
"We know how much of a hard time the school system has been having lately," said member of the academic chair Kaitlin McMurray. "We wanted to get involved."
Lauren Carlson, a member on the philanthropy chair, said each member bought supplies they thought the school might need such as glue, construction paper, and writing utensils.
Carlson went on to say that Delta Zeta plans to get more involved with the school by volunteering there during recess hours as recess buddies and to "hang out with the kids."
Both members of Delta Zeta stressed they wanted the Ferris community to know they are more than a sorority; they are a part of the community.
"There is a big misconception on the Ferris campus — people see these organizations [sororities] as for partying and that's just not the case," said McMurray, a senior in digital media production. "Greek life is probably one of the best opportunities you'll have to give back to the community," said McMurray.
The Delta Zeta Sorority is involved in many volunteer projects; among these is the Painted Turtle Camp in California.
The camp is for children and teens, ages seven to 16, with serious illnesses, and it gives them a chance to have fun while receiving the necessary medical care.
Delta Zeta said they are planning for other volunteer opportunities in October.