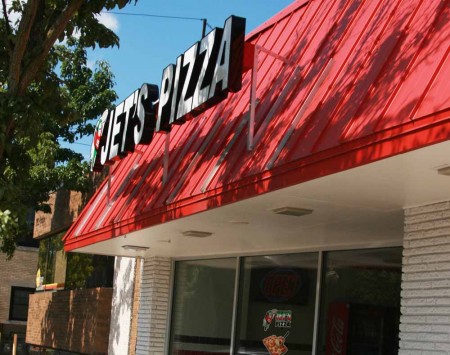 Jet's Pizza opened in Big Rapids on Monday at the former Papa John's location. Papa John's burned down nearly one year ago on Sept. 15
Steven Hoag II, a senior in criminal justice, is happy that Jet's Pizza is now in town.
"I love Jet's, so I'm very excited that we are getting one in Big Rapids," Hoag said.
Located on 215 Maple Street in downtown Big Rapids, construction for the pizza franchise began around June. Papa John's decided not to reopen the store after the fire took place. The former Papa John's opened at the location in 2001.
The interior of the building, owned by Love Investments, was completely redone after the fire damaged the building. The interior was replaced with white, green and red tile floors, which are the symbolic colors of Jet's Pizza.
Dennis Schafer and business partner Kimberly Frantz signed a five-year lease with Dennis Love of Love Investments, who is a realtor and owns the building that now houses Jet's Pizza.
Schafer met his goal of having the restaurant open for the beginning of the fall semester.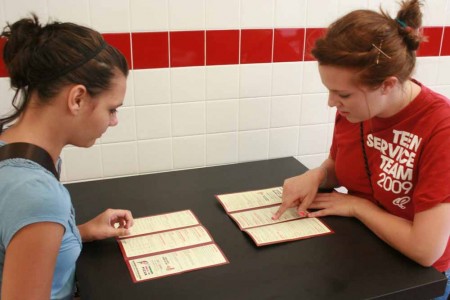 Molly Michalik, local manager of Jet's Pizza, told the Big Rapids Pioneer on Sept. 8 that a triple deck pizza oven was installed and about 15 employees were hired to keep up with all of the orders the restaurant expects.
Michalik was not available for further comment on the opening day for Jet's Pizza as of press time.
The Jet's Pizza in Big Rapids is larger in size than most Jet's Pizza restaurants. An average Jet's Pizza restaurant is 1,600 square feet; the restaurant downtown is 2,500 square feet. Schaefer told the Big Rapids Pioneer on Aug. 24 the extra space is used as a hallway from the rear entrance to the front counter and for limited seating. In addition, there will be four tables set up for customers who choose to dine in.
Since there was such an investment put into the building, The Pioneer reported that Love expects the franchise to opt for a five-year extension.
Love told the Pioneer, "We're fortunate to get a restaurant like that come in here. "
Jet's Pizza's hours are 11 a.m.-10 p.m. on Monday-Thursday, 11 a.m.-midnight on Friday and Saturday, and noon-10 p.m. on Sunday.