Petra Coronado, a junior in integrative studies who wants to become a Spanish translator when she graduates college, believes Latinos as a minority group have faced challenges in America.
Coronado said some of the biggest challenges students of Hispanic origin have to face today are obtaining the success that individuals of other races and cultures can achieve.
"We all need to be strongly encouraged and trusted that we can succeed and for others to give us the determination that many of us need," said Coronado.
September is Hispanic Heritage Month, which has been celebrated in the United States since 1968 when Congress authorized and requested the President to issue an annual proclamation designating the week including Sept. 15 and 16 as National Hispanic Heritage Week, according to the Library of Congress' website.
For Coronado, celebrating the values and culture she grew up with is very important. Coronado was born and raised in Mexico for most of her childhood until she and her family moved to the United States when she was in the seventh grade. Coronado and her family moved to Hesperia, where she graduated from Hesperia High School in 2009.
Although Coronado has not personally faced any issues due to her heritage, she recognizes the fact that Latinos as a minority group face issues of racism and discrimination, as there are cultural differences between Latino-based countries such as Mexico.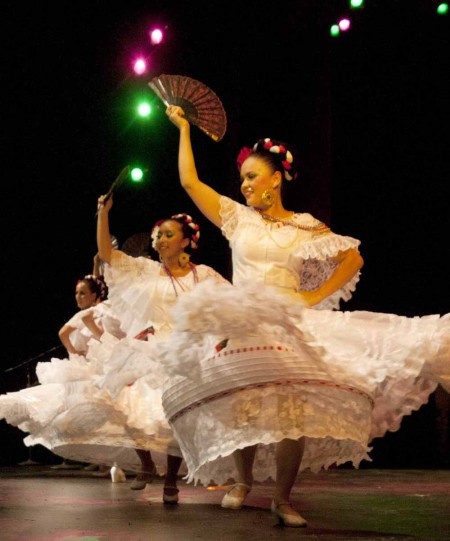 "Culture has definitely changed; I've got used to the way Americans live and since I'm away from home and there's not many Hispanics around," said Coronado.
She added, "I still carry with me some of the values I grew up with because I have my mom and dad, who are my role models."
Other differences she has noticed between the United States and Mexico is there is more competition among individuals in the U.S. than there is in Mexico and the security is stricter in the U.S.
"You can't get away from anything and the government is the one in control in difference to some parts of Mexico and other countries," said Coronado.
She believes money is a big influence in how the United States government system operates in contrast to Mexico's government.
As for the education system, Coronado said the schools are better in the United States than they are in Mexico.
"The economy is better in the U.S. and there are more chances to get scholarships and have a good education and society in general is more positive about education from what I have experienced," Coronado said.
Additionally, Coronado believes Ferris is accepting of all cultures.
 "I think Ferris is a diverse campus by creating more multicultural groups where anybody can join that gives each of us the opportunity to learn from each other's cultures and understand that we all want to succeed," said Coronado.
It is imperative to her that each person values and celebrates their culture and seek success despite the limitations society may try to set for individuals of "minority" groups.
"I think it's important that we celebrate our culture, because as I said most of us are away from home and miss it. It is a good way to feel back at home for a little while," said Coronado.